Italia: Spunta most popular potato variety both in Italy and abroad
With approximately 60 hectares of open fields dedicated to the cultivation of potatoes and vegetables in the Trani area, the Agrilorusso family business deals with production as well as direct and indirect commercialisation.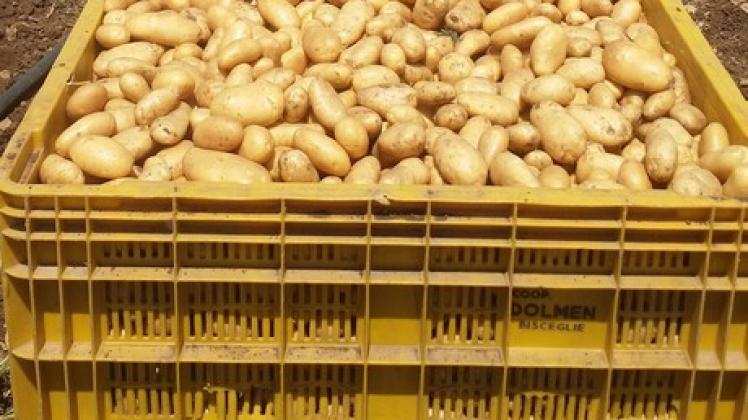 The Arizona, Spunta, Bellina, Annabelle, Elodie and Agria varieties are cultivated on 20 hectares. "The season goes from May to late July and the tubers are distributed both in Italy and abroad, France and Belgium in particular. Despite being quite dated, Spunta is still the most popular variety and Bellina is also quite in demand," explains manager Angelo Lorusso.
"Compared to last season, we saw a drop in prices and consumption as the weather delayed harvesting and led to overlaps."
The current price at origin is €0.30 and potatoes are sold in 12 kg crates.
Celery
Of all the vegetables produced by the company (beets, chicory, endive and parsley), Agrilorusso is currently harvesting celery. "The season lasts between September and July with many varieties. A first cycle is carried out on 15 hectares and then crops rotate. This year, we were one of the first to plant a new variety, so there were no intervals and there was no need to store produce in cold units."
Some of the produce is sold in Italy, but most of it is shipped abroad. "We are the official suppliers of Carrefour in France and Belgium. Limited quantities are also destined to Germany, the Netherlands and Scandinavia."
"Prices hovered around €0.50-0.60 at origin, which is rather good."
Other vegetables
Between September and April, Agrilorusso produces endive destined to the processing industry and Belgium. "Vegetables did well this year and the good prices meant we could end the campaign well. This is true for endive but also for Savoy cabbage, cauliflower, parsley, radicchio and sugarloaf. Snow at the beginning of the year only caused some scalding. We were lucky and even managed to get better quotations due to the lack of produce in other areas."
Celery, parsley, beet, chicory, cauliflower, cabbage, sugarloaf and salad transplants will start in July.
Drought is causing no problem as "we get the water from our own wells and, anyway, the campaign is about to end."
"In the future, the idea is to introduce frozen, fresh-cut and ready-to-eat products and we are also working on a new warehouse."
Contacts:
Agrilorusso di Lorusso Angelo
Via Rodio Apollonio, 53
76123 Andria (BT) - Italia
Email: info@agrilorusso.com
Fuente: http://www.freshplaza.com/article/178141/Spunta-most-popular-potato-variety-both-in-Italy-and-abroad