Holanda: Large potato supply hopefully results in more favourable export position
The new potato harvest is more than in store by now. "We have plenty of Frieslanders, Doré and Bildstar available," says Klaas Greydanus from the potato wholesaler of the same name in Heerenveen, the Netherlands.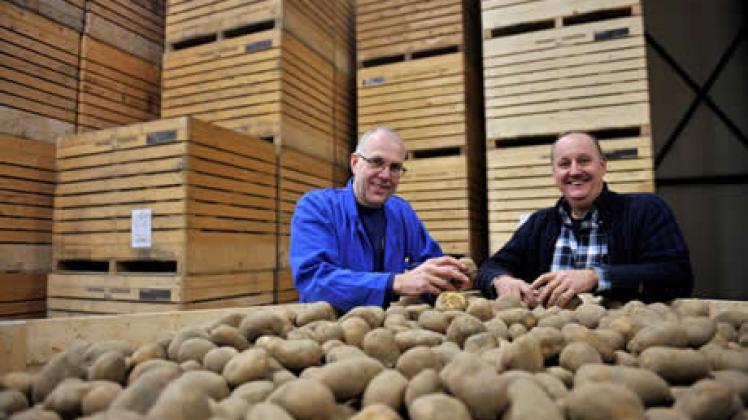 He isn't too optimistic about the new season. "Prices were quite good last year, which means the pig sector also did well, resulting in a significant area expansion. I expect we'll have too many potatoes this season."
Klaas and Cor Greijdanus
"But on the other hand, that might be a bit more favourable for our export position. Last year, potatoes were expensive, and when prices are higher than 20 cents, we stop being interesting abroad. That is looking different now. Demand is calm at the moment, but that's not unusual during the holiday period. Prices are still at a level between 18 and 22 cent, but looking at the futures market that is at 9 cent, you can see there's not a lot of confidence in the market," Klaas continues. According to the potato trader a considerable share remains for the free market, despite the increasing capacity of chips factories.
Greydanus's clientele mostly consists of national supermarkets. "We supply a lot to franchisers, and we're also supplier for Aldi, but it's no secret that the European market for table potatoes is becoming smaller. Fewer fresh potatoes are bought every year, the entire sector is affected by that. That's why it's so important to keep export going. There's plenty of capacity, and when there's a lack of export, everyone turns to the Dutch market."
For more information:
Greydanus Aardappelgroothandel & Transport BV
De Kuinder 12
8444 DC Heerenveen, the Netherlands
Tel: +31 (0)513-681268
info@greydanus.nl
Fuente: http://www.freshplaza.com/article/179573/Large-potato-supply-hopefully-results-in-more-favourable-export-position