Europa: Never say no and always supply product at market prices
Kleinjan's Aardappelhandel BV buys and sells exclusively on the free market. Risky? "Not necessarily. We move with the market. That way, you can create a win-win situation for everyone," according to Adrie Kleinjan.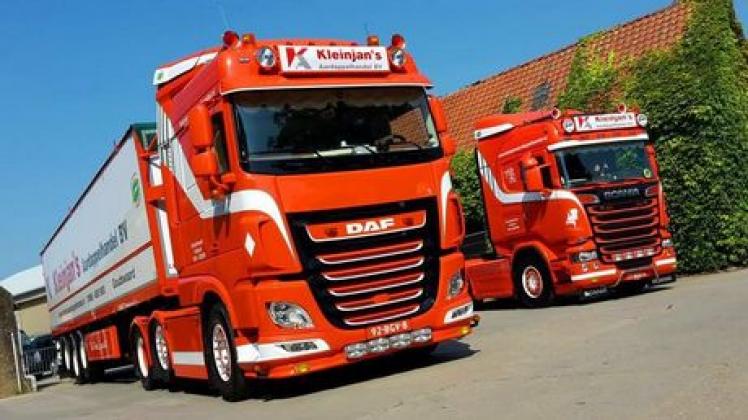 Although he thinks it's still too early to give predictions for the new season, he sees plenty of opportunities.
"It was a memorable year. The old harvest is as good as gone, and that's remarkable for the time of year," the trader says mid-July. While Kleinjan normally has potatoes from Dutch soil available 52 weeks per year, this year there will be a gap between the old and the harvest. "Though that doesn't mean there won't be potatoes available. The gap will be immediately filled with import product. Much is sent this way."  Kleinjan's Aardappelhandel is exclusively focused on Dutch product and only trades import potatoes, if necessary to the Dutch market. "We don't need the import product for export. Certain supermarkets switch to import potatoes in spring, but it appears as if people choose Dutch product when it's available. The new foreign potatoes are more expensive, but don't always taste better. Besides, we are also a bit chauvinistic."
Market prices
Potato wholesaler Kleinjan focuses on potatoes in the broadest sense of the word: seed potatoes and potatoes for the fresh market, industry and export. Moreover, the company grows its own seed and consumption potatoes. "Of the potatoes meant for trade, the majority is bought from growers who grow for us. They grow the varieties we can easily sell on the market. Because of that, we have a connection to our growers and customers, and we know in an early stage which quality can be supplied and sold." Kleinjan's potatoes come form a wide area of cultivation, from Groningen to Paris, but the southwest of the Netherlands is the most important production region. "We currently grow the traditional varieties for our sales market, but we also try new varieties on various markets every year. Our trial fields have more than 100 new and existing varieties, of which a number of new varieties are taken into our range every year."
Adrie says prices aren't fixed in advance, but agreements are made about volumes, varieties, purchase, and so on. "I only have one contract, and that's with my wife. I'm not one for fixed price agreements, there's always a loser, and we don't feel good about that. We work on a market of supply and demand. That way you can create a win-win situation for everyone. Being important for your customer, staff and buyer is what we think is most important. Our speciality is never saying no and always offering a product at a market price."
Quality increasingly important
The decreasing potato consumption led to a decline in the amount of consumer packaging. While years ago, packaging of five kilograms still sold, mostly 2.5 and even one-kilogram packaging are sold nowadays. "In the past, people ate potatoes five times per week. Now it's on the menu twice a week at most, and the product is often prepared differently as well. The potato has become a vegetable. The quality and appearance of the product has become more important because of that. Consumers buy with their eyes, and want a nice, white potato." Kleinjan supports the Power to the Pieper campaign, that has bringing potatoes to the attention of people as its goal. "The potato has to become sexy again. It's a product with an endless amount of versatility. By means of advertising in media and on social media, we hope to inspire consumers to choose potatoes more often again. Whether it concerns a quick and easy meal on a weekday or a more extensive version in the weekend doesn't matter. Potatoes are always an option." That doesn't mean the five-kilogram packaging has disappeared. Especially foreign consumers still prefer these. "It shouldn't cost too much, but the product has to be good. Additionally, it's noticeable that quality is asked for more often in Eastern Europe as well, and that they're willing to pay for it." The potato wholesaler serves customers in Europe. Outside of Europe, they use exporters.
Adrie sees a considerable increase in the sales of Agria-like varieties, which is thanks to the increase in fresh chips. "The consumption of fresh chips has increased considerably in the Netherlands, but also throughout Europe. For example, we have customers who used to buy one pallet of chips potatoes, but now they buy entire lorry-loads. It is also indicative of how eating habits have changed. Fresh chips have taken over a major part of the market for frozen product. We expect this growth to continue for now."
Opportunities and threats
When asked about the largest threat to the potato sector, he mentions the weather. He even thinks the weather will play an increasingly larger part, because of the changing and ever more extreme conditions. "You constantly have to keep the weather in mind. Irrigation or no irrigation, draining or not draining, insurance or no insurance, the list goes on. Despite the Netherlands being small, there are large differences in the various cultivation regions, and that doesn't make it any easier. This is also true in other countries. Ten years ago, people saw Spain getting warmer and warmer, and it's now looking as if it's nearly too hot for the cultivation. That will result in the product having to be processed and exported quickly, if you want to be able to deliver quality."
He also definitely sees opportunities. "Every day offers opportunities, but you have to want and be able to respond to that," Adrie explains. "Management is actually as changeable as the weather. Take, for example, the switch to small packaging, the rise of luxurious cafeterias with fresh chips both domestically and internationally, and, not exactly unimportantly, the increased potato cultivation in Eastern Europe. Instead of customers, they have become competitors. The growing economy in these countries ensures, on the one hand, that people want better qualities, which is how we'll benefit. So there are always opportunities." He is therefore positive about the new season for now, despite the fact it can still go in every direction, and good weather is necessary especially for the late varieties. "At the start of the early season, it looked like there wouldn't be space for Dutch product. There were still so many import potatoes, that we actually couldn't start mid-July. Now it looks like there definitely are possibilities, either towards export or industry."  
The trader also sees other opportunities, in solar panels, for instance. Kleinjan hopes the fill the roof with solar panels early 2018. "Because of that, we can make our company energy neutral. And that's a great development of the company, which started 40 years ago, by generating our own power through a generator," he concludes.
More information:
Kleinjan's Aardappelhandel BV
Adrie Kleinjan
adrie@kleinjansaardappelhandel.nl
Fuente: http://www.freshplaza.com/article/181200/Never-say-no-and-always-supply-product-at-market-prices