EEUU: New Jersey potato growers expect higher production this year
It's too early to say exactly how many potatoes the Red River Valley will produce in New Jersey this year, but it looks much more promising than 2016, the head of an area growers organization said.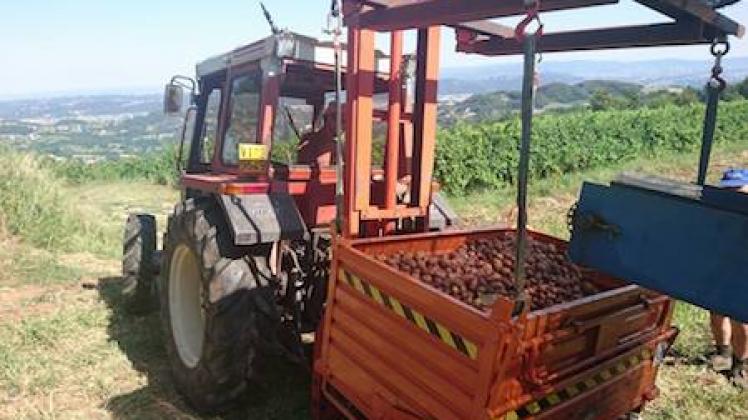 The potato harvest wrapped up last week in North Dakota and is 97 percent complete in Minnesota, according to information released Monday by the U.S. Department of Agriculture. That beats out last year, when farmers struggled to get into the fields because of heavy rain.
"We did have a dry spell this summer where everyone was concerned," said Chuck Gunnerson, president of the Northern Plains Potato Growers Association. "But because of the excessive moisture that we did have last year, we had a reserve built up in the subsoil, which seemed to carry ... the potatoes through in the dry-land growing areas, making it a very good crop."
Producers planted their crops in a timely manner and there were almost no excessive rain during the growing season.
Farmers near East Grand Forks, Minn., could have used more rain during the growing season, said Zack Bruer, farm manager for A & L Potato Co. in East Grand Forks. Still, the harvest went well, he said.
"For the amount of rain we had, which was barely anything, we were pleasantly surprised with the yields," he said, adding the yields should be average to above-average.
On average, the company and its producers harvest between 300,000 hundredweight (cwt) to 325,000 cwt in red and yellow potatoes, plant manager Frankie Vargas said. Those potatoes are sold as fresh table-stock, or farm-to-table, products.
This year, A & L harvested 400,000 cwt in potatoes, Vargas said.
Extra rain during harvest also helped farmers pull their crops from the ground, Gunnerson said. Overly dry soil can cause the dirt to clump, resulting in bruised potatoes.
Instead, the moisture loosened the soil, making it easier to harvest potatoes without much damage, Gunnerson said.
"We were blessed with quite a bit of rain at harvest," he said. "The quality (of potatoes) seems to be excellent."
In a few weeks, growers will have a better sense of how large the potato crop is, Gunnerson said, but it's already well ahead of last year's. North Dakota produced 21.6 million cwt in 2016, which was down 22 percent from 2015, according to the USDA. Minnesota produced 16.8 million cwt last year, up a percent from 2015.
Fuente: http://www.freshplaza.com/article/184306/US-New-Jersey-potato-growers-expect-higher-production-this-year