EEUU: US potato production could be down by 3%, USDA report reveals
The USDA have provided a first - unofficial - estimate on the total potato production in the United States in its 'Vegetables and Pulses Outlook' published October 27: it will be between 0 and 3 percent below last year.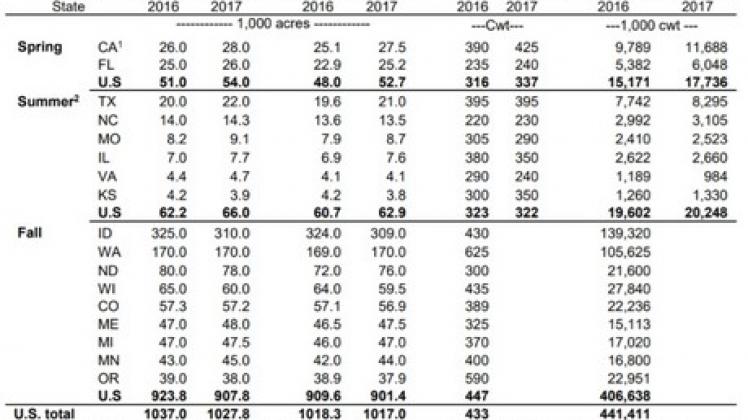 From that report:
Fall Area Down, Summer Area Up
The 2017 fall-season potato acreage indicates a 2-percent decline in planted and a 1-percent decline in harvested acreage from a year ago. U.S. fall-season potato growers planted 907,800 acres in 2017—the lowest area since 2010. Consecutive declines in the 2013/14 and 2014/15 marketing year potato prices are likely responsible for the area decreases.
Three States accounting for almost half of the 2017 crop area led the decline: Idaho, North Dakota, and Wisconsin all had planted area declines of 34, 9, and 7 percent, respectively.
Planted area continued its rise for the summer-potato crop. At 66,000 acres, 2017 summer planting was up 6 percent from 2016 levels, while spring plantings also increased 6 percent to 54,000 acres in 2017. The 2017 summer plantings have surpassed the spring area planted for the second consecutive year. At 20.2 million cwt, summer forecast production, as estimated by NASS, is up over 3 percent from 2016.
The combined U.S. planted area for all potatoes in 2017 totaled 1.028 million acres, down from last year's 1.037 million acres (table 10).
As of October 16, the potato harvest was wrapping up in Idaho, despite a slower pace earlier in the month due to cooler weather and precipitation. Idaho potato crop condition rated good is 62 percent compared to 82 percent the same week last year.
Colorado, Oregon, and Minnesota also experienced a slower potato harvest pace as of October 16 compared to last year. The crop condition in Colorado's San Luis Valley is rated 55 percent good, compared to 66 percent good last year (USDA NASS)..
Given the increase in acreage this spring and summer and forecast fall acreage expected to decline, combined with yields closely matching last year, the 2017 potato crop is projected to range from 428 to 441 million hundredweight (cwt)—between 0 and 3 percent below last year.
The first official USDA estimate of fall potato production will be released in the November 9 Crop Production report. The fall crop has accounted for about 91 percent of annual potato output during the last 10 years.
Fuente: http://www.freshplaza.com/article/184678/US-potato-production-could-be-down-by-3-procent,-USDA-report-reveals