Could plant-based plastics help tackle waste pollution?
We know that plastic waste is a big problem for the planet - our oceans are becoming clogged with the stuff and we're rapidly running out of landfill sites.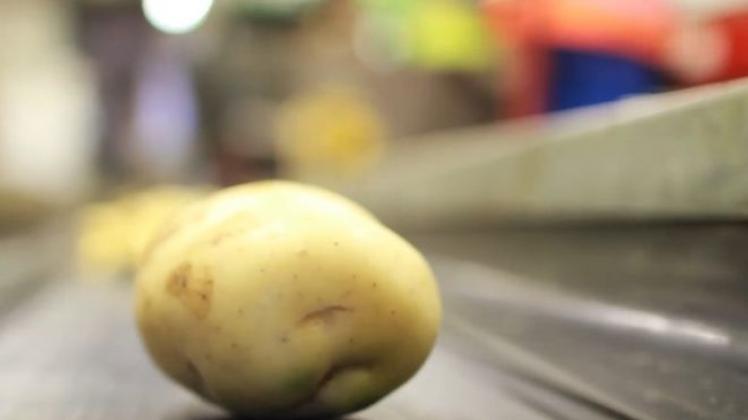 Potato starch and plant fibres can be turned into compostable plastics
Only 9% is recycled. Burning it contributes to greenhouse gas emissions and global warming. So could plant-based alternatives and better recycling provide an answer?
We have grown to rely on plastic - it's hardwearing and versatile and much of our modern economy depends on it. And for many current uses there are simply no commercially viable biodegradable alternatives.
The humble single-use drinking straw is a case in point. Primaplast, a leading plastic straw manufacturer, says "greener" alternatives cost a hundred times more to make.
Takeaway coffee cups are another example. In the UK alone we throw away around 2.5 billion of them every year, many of us thinking that they are recyclable when they're not, due to a layer of polyethylene that makes the cup waterproof.
One company trying to change this is Biome Bioplastics, which has developed a fully compostable and recyclable cup using natural materials such as potato starch, corn starch, and cellulose, the main constituent of plant cell walls. Most traditional plastics are made from oil.
"Many consumers buy their cups in good faith, thinking they can be recycled," says Paul Mines, the firm's chief executive.
"But most single-use containers are made from cardboard bonded with plastic, which makes them unsuitable for recycling. And the lids are most often made of polystyrene which also cannot be recycled."
The company has created a plant-based plastic - called a bioplastic - that is fully biodegradable and also disposable either in a paper recycling or food waste bin.
Mr Mines believes it's the first time a bioplastic has been made for disposable cups and lids that can cope with hot liquids but which is fully compostable and recyclable. The cup isn't yet on the market, but Mr Mines says he is in talks with a number of retailers.
"It's not feasible to get rid of plastics completely," says Mr Mines, "but instead replace some of the petroleum-based plastic for biopolymers derived from plant-based sources."
Plenty of other companies and research institutes, such as Full Cycle Bioplastics, Elk Packaging and VTT Technical Research Centre of Finland, are working on similar biopolymer solutions that are more environmentally friendly but equally functional as conventional plastic.
Media captionCould plastic roads help to save the planet?
And Toby McCartney's firm MacRebur has developed a road surface material made from an asphalt mix and pellets of recycled plastic. The plastic mix replaces much of the oil-based bitumen traditionally used in road building.
"What we are doing is solving two world problems with one simple solution - the problems we see with the waste plastic epidemic, and the poor quality of the potholed roads we drive on today," claims Mr McCartney.
Since its launch two years ago, the Lockerbie-based firm's hybrid material has been used to build roads across the UK, from Penrith to Gloucestershire.
Fuente: http://www.bbc.com/news/business-42973529