India (Punjab): 'We may not recover production cost of potato for third year in a row'
Under the new scheme announced in the recent Budget, a corpus of Rs 500 crore has been kept to help potato, tomato and onion growers.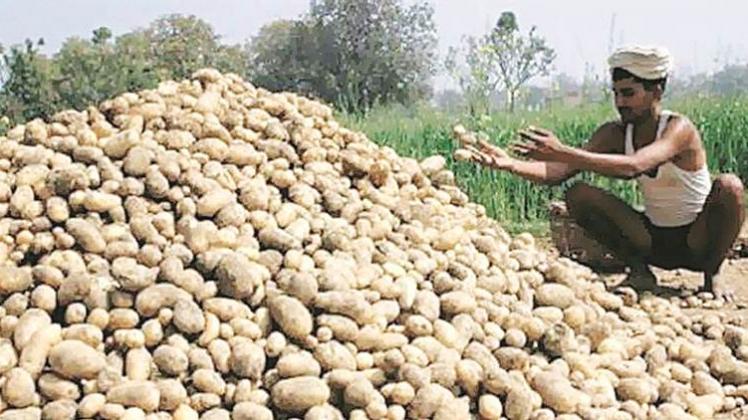 Harvesting has begun in Doaba region.
Despite the Centre announcing its new Operation Greens in the Union Budget last week, potato farmers of Punjab see little hope of recovering their production cost even this year, as harvesting begins in Doaba region, the potato belt of the state. Potato grower Raghbir Singh said he harvested his crop last week. "I sold them at a rate of Rs 120 per 50 kg bag at wholesale market a couple of days back," said Raghbir, adding that the vegetable is being sold at Rs 12 to Rs 15 per kg in retail market.
Satnam Singh, who grows potato on 15 acres in Kagniwal village, said the rate is same for the past two seasons, 2016 and 2017 — Rs 1.50 to Rs 3 per kg — which is three times below their production cost.
A potato grower spends Rs 9 to produce one kg of crop, which includes Rs 6 as production cost and Rs 3 for harvesting, packaging and keeping in cold storage or transportation to mandies. "Government must check this huge difference of wholesale and retail price," said Raghbir.
Under the new scheme announced in the recent Budget, a corpus of Rs 500 crore has been kept to help potato, tomato and onion growers.
Jugraj Singh, who has been producing potatoes on 200 acres of land including, 130 acres of his family land and 70 acres on lease, said that his losses are huge. "I have come under a huge financial burden for the past two years due to several reasons, including absence of marketing infrastructure, demonetisation and then Goods and Services Tax (GST) on fertilizers and pesticides. I am growing the crop again and again with a hope to recover the losses, but every time the burden of loss is increasing," said he.
"In the past one decade since 2007 till date there were three each excellent and average years for the crop, while four years were very bad, including 2016 and 2017," said another potato grower and press secretary of Jalandhar Potato Growers' Association (JPGA) Jagat Gill Thamanwal, adding that even the cost of keeping potatoes in cold storages is more than its price in the market.
We get around 100 quintal (10,000 kg) potato from one acre after spending Rs 9 per kg and if the rate is good then a farmer can sell it at Rs 16 per kg, which means a farmer can earn Rs 7 per kg and his net income would be Rs 70,000 per acre after meeting all the expenses," said JPGA General Secretary Jaswinder Singh Sangha, adding that if government has kept Rs 500 crore corpus for the crops like potato, it should either purchase them at reasonable rates or develop a market for it.
He added that the retailers are earning from the crop but farmers are not even getting the production cost.
Markets must be interlinked and also export should be increased to Middle East and Russia where our potato has huge demand, said Sangha. "Now the new crop is already in the market and the rate is still very low. Government must act as per its promise to save us from third consecutive year of pathetically low price of the crop," urged Sangha. "We need fair price to survive," said another potato grower Iqbal Singh Chattha.
In Doaba, comprising Jalandhar, Kapurthala, Hoshiarpur and Nawanshahr districts, which supplies its seeds across the country, around 90,000 hectares land is dedicated to the potato crop where 2.2 million tonnes of potatoes are grown annually. More than 1.5 million tonnes is shed potato.
Fuente: http://indianexpress.com/article/india/pumjab-farmers-potato-crop-msp-agriculture-5056951/