Italia: Slow potato market
The potato sector had hoped for things to pick up after the festivities but nothing happened. "Things have remained the same as before the festivities and the produce is compromised by the low quotations of the foreign produce, from France in particu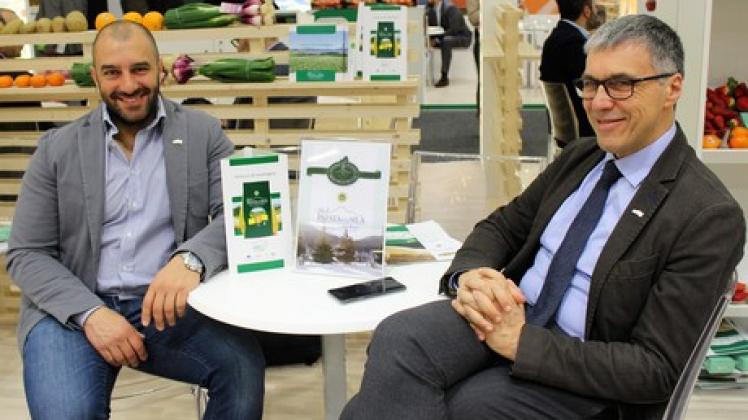 Albino Carli and Pietro Tarasi, sales manager and president of Consorzio Produttori Patate Associati-PPAS in Spezzano della Sila (CS). Photo taken at
The market is stagnant, consumption fluctuates and prices are dropping. It's very hard to make a profit," explains Albino Carli (left in the photo below), sales manager of Consorzio Produttori Patate Associati-PPAS.
As regards PGI products such as Patata della Sila IGP, however, Carli reports that "despite the difficult situation, they are doing well and are very much appreciated. Sales have increased by 10% and prices have remained in line with last year. This bodes well for the future, as we can reassure our producers that certified potatoes can guarantee sales and profits."
The sales manager adds that the destocking of PGI produce is regular. "The Patate della Sila IGP campaign will continue until late May as planned. Destocking of the traditional produce is however rather slow and prices are low. Producers need to focus on high-quality productions, as it's better to produce less but have crops that are certified."
As regards Fruit Logistica 2018, Carli reports they were rather pleased with their new stand Hall 2.2. "It was a good step forward with respect to our stand in City Cube in 2017. Berlin is the leading fair for our sector, as the entire fresh produce world attends. It was the perfect occasion to talk to our clients and get a feel of the latest trends."
"Despite the new contacts, the interest for potatoes was slightly weaker this year, reflecting the current market situation."
Fuente: http://www.freshplaza.com/article/189749/Italy-Slow-potato-market