EEUU: Biological inputs assist in farm health
Third-generation potato farmer Brendon Rockey is showing producers across the globe how to improve farm health with biotic methods.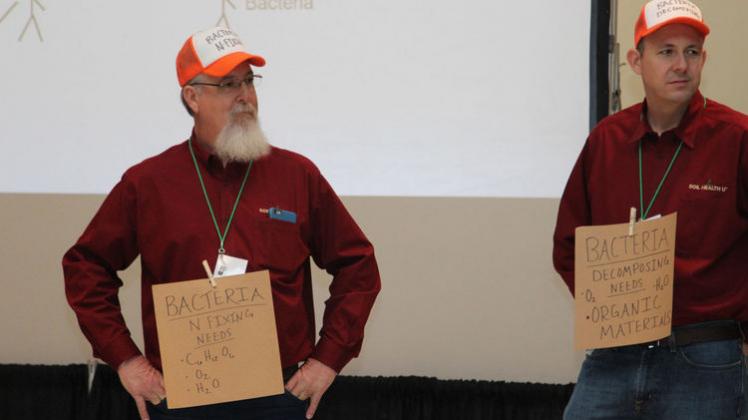 Soil Health U speakers Dan Schultz and Michael Thompson assist with Brendon Rockey's audience participation breakout. They played the roles of "N-Fixi
He showed them as a breakout speaker on "Biotic Farming: Fundamentals and Applications," during the inaugural Soil Health U and Trade Show, held recently at Salina, Kansas.
His grandfather founded the farming operation at 6,700 feet of elevation near Center, Colorado, in the San Luis Valley and he credits his grandfather Floyd with teaching him a valuable lesson.
You have to take care of the soil before the soil can take care of you."
That lesson, he said, was lost for a while, but now it has returned.
That was also a time when, with less than 6 inches of average annual rainfall, Rockey Farms began using flood irrigation. Today, the farm has replaced gated pipe with center pivots and precision nozzles. Biological inputs like companion crops, livestock, green manure and flower strips have replaced synthetic fertilizers, herbicides, fungicides and insecticides.
"We once were trying to solve our problems through a linear approach," Rockey said. "We used to use everything that had in its root the word 'cide'. That word means death. We were trying to feed people, to sustain life, through methods of death. Once you stay on that track, it's gets more difficult to move away from it."
+2 
SHU_Rockey_Candid3_JML.jpg
Brendon Rockey, left, walks audience participants through the symbiotic relationship between roots and mychorizal fungi in this portion of the presentation. Rockey said he had really good feedback from farmers on this science and biology refresher course. (Journal photo by Jennifer M. Latzke.)
Instead of the use of "cides," Rockey has chosen building carbon and soil structure, looking at life in the soil and life on the plant. By applying less inorganic fertilizer, fewer salts are added to the soil and the soil structure is built up. Feeding carbon and building the soil structure uses less water.
"Water conservation has become the driving force for me. Through life, like beneficial insects and building carbon into the soil structure, we focused on the things we weren't paying attention to any longer."
While increasing water efficiency, Rockey's system sustains yields and supports a flourishing ecosystem encouraging beneficial insects, soil microbes and carbon cycling.
About half of Rockey's 500 acres is planted annually to potatoes. In addition to managing the farm's annual potato crop, Rockey grows quinoa, flax and lentils while welcoming local cows, sheep and bees to graze green manure and flowering fields.
"We moved from a linear approach to one that was more circular," Rockey said.
"When you consider the world of potatoes, we are a smaller operation," Rockey said. "It has to do with the varieties we raise."
The farm no longer grows the standard Russet potato, opting instead for varieties, as Rockey said, "that taste good." They are especially proud of their Fingerlings.
Rockey Farms also produces year-round certified seed potatoes in its greenhouse. Three crops originating from potato plant tissue cultured in the farm's lab are grown annually. Rockey uses biologically amended potting soil, to promote crop health and uniformity, and flowering companion crops, to create beneficial insect habitat, which serves as his main form of insect management.
"Weed seeds often are a major part of the diet (of beneficial insects)," Rockey said. "They scavenge the top of the soil and find those seeds before they become incorporated into the soil. When you remove those insects through insecticides, those weed seeds germinate and then you are forced to use another "cide" to kill the weeds.
"Potatoes are a pretty sensitive crop, so if we applied the wrong product at the wrong time it could have a huge impact on the potato crop," Rockey said.
Rockey's effort to develop a farm that is dedicated to soil health has not gone unnoticed. He is a National Association of Conservation Districts Soil Health Champion and Colorado Certified Potato Growers Association board member.
He devotes his time to many local, national and international soil health focused organizations through speaking events and workshops. In 2014, Rockey Farms was awarded the National Potato Council Environmental Stewardship Award for its practices. In 2011, the farm was recognized with the Colorado Association of Conservation Districts Farming Division Conservationist of the Year Award.
Rockey believes soil health is the foundation of a healthy farm and food system. Soil health is the key to an efficient agroecosystem, one that reaps economic benefits while providing a nutritious, safe product for the consumer. For all these reasons, soil health is a priority. Healthy soils create healthy farms to feed healthy people.
"One of the things that makes us more determined is when people tell us we can't do it. We try instead to make sure it works," Rockey said.
Larry Dreiling can be reached at 785-628-1117 or ldreiling@hpj.com.
Fuente: http://www.hpj.com/ag_news/biological-inputs-assist-in-farm-health/article_b7c44bc6-18d3-11e8-bd2c-67e12db575a8.html