Italia: Study of microstructural and thermal properties of 21 potato varieties
Technicians from the University of Naples Federico II studied the characteristics of tuber starch, the chemical-thermal properties of 21 potato varieties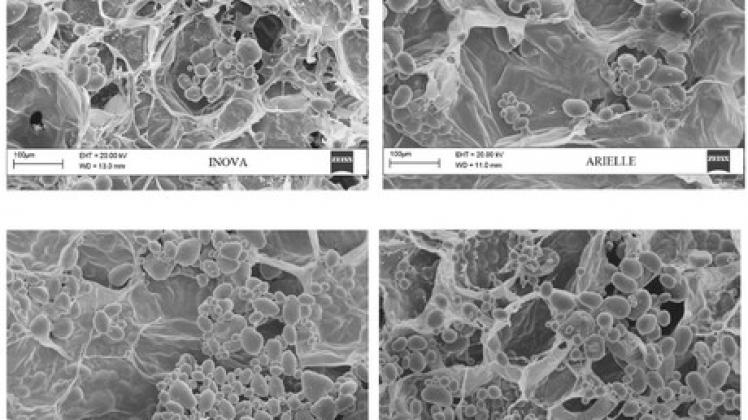 Scanning electron microscope (SEM) images of starch granules in 4 potato varieties.
Technicians from the University of Naples Federico II studied the characteristics of tuber starch, the chemical-thermal properties of 21 potato varieties (Actrice, Adora, Arielle, Arizona, Asterix, Bellini, Berber, Colomba, Crisper, Fontana, Inova, Laura, Marlene, Red Scarlet, Safrane, Sinora, Soprano, Triplo, Universa, Vivaldi e Volumia) and also determined their genetic diversity through SSR markers.
Analyses showed that, while starch granular size varied among samples with diameters ranging from 5 and 85 μm, granular shape was similar.
Differential Scanning Calorimeter analyses showed that transition temperatures (69°C-74°C) and gelatinisation enthalpies (0.9-3.8 J/g of starch) depend on tuber variety. SSR analyses enabled the identification of 157 alleles across all varieties, with an average value of 6.8 alleles per locus. Variety-specific alleles were also identified.
"Tubers showed single endothermic transitions corresponding mainly to starch gelatinisation at considerably different thermal parameters, meaning they are suitable for different uses. A more detailed study on extracted starch rather than tuber tissue will be carried out in the future. Molecular analyses revealed interesting genotypes. Even though we haven't found associations between SSR and starch characteristics, genetic detection via SSR markers and microstructural classification through scanning electron microscope (SEM) analysis provided useful information to identify a large series of potato genotypes," explained researchers.
Sourche: Annalisa Romano, Paolo Masi, Riccardo Aversano, Francesca Carucci, Sara Palomba, Domenico Carputo, 'Microstructure and tuber properties of potato varieties with different genetic profiles', 2018, Food Chemistry, Vol. 239, pag. 789–796
Fuente: http://www.freshplaza.com/article/184565/Study-of-microstructural-and-thermal-properties-of-21-potato-varieties