India: Kerala laps up low potato prices in UP
Marxist government in Kerala is close to harvesting a business opportunity in Uttar Pradesh, where recently angry potato farmers threw quintals of potatoes at chief minister Yogi Adityanath's office and residence protesting against poor price realisa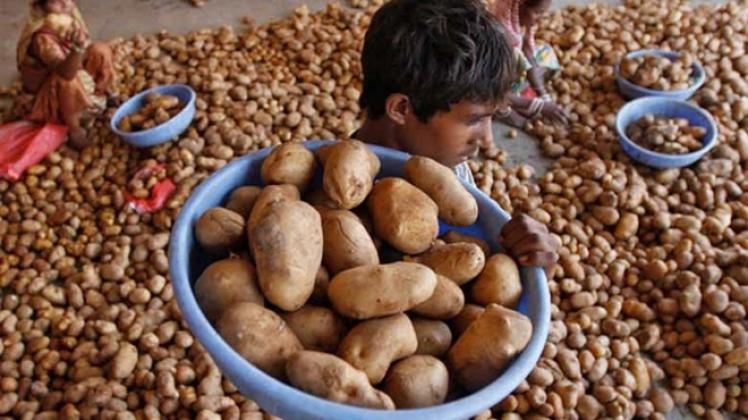 Marxist government in Kerala is close to harvesting a business opportunity in Uttar Pradesh, where recently angry potato farmers threw quintals of potatoes at chief minister Yogi Adityanath's office and residence protesting against poor price realisation.
Promptly, Pinarayi Vijayan government has rushed a delegation of officials to Lucknow, offering to source regular supplies of potato to Kerala, where potato prices are soaring. Early this week, Horticorp, Kerala government's green grocery arm, held trade parleys with its counterpart in Uttar Pradesh, even signing a sourcing agreement.
"The first consignment of UP potatoes — 25,000 tonne —will arrive in Kerala in March first week," says Babu Thomas, managing director, Horticorp ( Kerala Horticorp Mission) told FE.
Anjali Kumar Srivastava, managing director, HOFED ( UP Horticultural Co-operative Marketing Federation), who participated in the discussions, has assured that more potato supplies will follow in the ensuing months, depending on demand from Kerala. Meghalaya government is also likely to buy about 20,000 tonne potatoes annually from HOFED.
Kerala government had been facing opposition's ire in the state assembly over price rise of essential commodities, following the hike in freight costs.
"We have been fine-tuning the initiatives to source greens from farmers without middlemen, as much as possible," says VS Sunil Kumar, state agriculture minister. During the peak festive season Onam, Kerala had sourced rice for public distribution system from Andhra Pradesh, through government-to-government trade deals.
Further, the southern state's demand for potatoes and onions are recently on the high as the the conventional rice-eating consumption pattern had gone for a shake-down, following an increase in job seeking migrants from Uttar Pradesh, Bengal, Orissa, Assam and other northern states. The price of potato in the open market in Kerala ranges from `20 to `22 per kg.
In Uttar Pradesh, which produces 15.5 million tonne potatoes per year, the price has been crawling as low as `3 to `7 per kg. At the same time, it is feasible for Kerala to buy potatoes at `7 per kg, even after coughing up freight costs to the tune of `5 per kg.
The kitchens in Kerala would be able to grab Lucknow potatoes at a bargain, even at `12 per kg.
Calculate your income tax post budget 2018 through this Income Tax Calculator, get latest news on Budget 2018 and Auto Expo 2018. Like us on Facebook and follow us on Twitter.
Fuente: http://www.financialexpress.com/india-news/kerala-laps-up-low-potato-prices-in-up/1069335/