India: Plummeting prices of potatoes play havoc for farmers in Uttar Pradesh
Last year, due to a series of COVID lockdowns, prices of potato had touched up to Rs 43 per kilogram, as supply chains were affected. Hoping to make profits, farmers took up potato cultivation in a big way this year.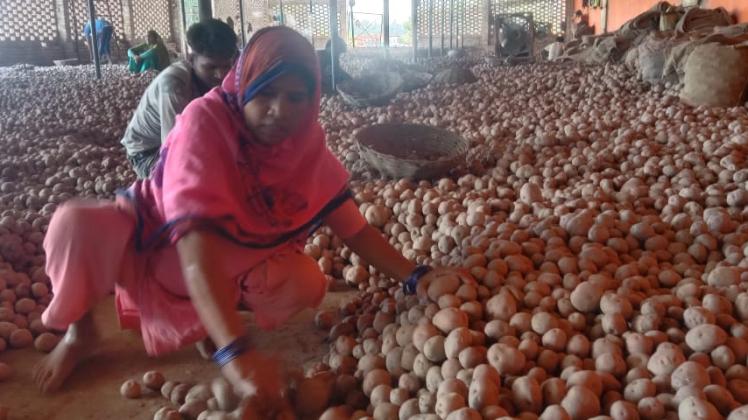 Uttar Pradesh's Farrukhabad district is known for its high production of potato. Multinational food giants such as Frito-Lay, which manufactures potato chips, procure potatoes from here, and farmers usually get fair prices for their yield.
But at present, there is a pall of gloom in the villages where potato farming is the mainstay. It is because the price of potatoes has plummeted. Last year was a good year for potato crops and farmers felt encouraged to grow more. Because of the bumper crop this year, prices have plummeted and farmers are suffering.
As against last year's potato prices of upto Rs 43 per kilogram (kg), the prices for potatoes are hovering around Rs 10- Rs 15 a kg in the vegetable markets across the state. According to farmers, the COVID19 lockdowns last summer had severely hampered the supply chain and the prices of potato had hit the ceiling. And now they have crashed down.
"Seeing the high potato prices last year, we took up potato cultivation on a large scale. But that decision is proving to be a costly mistake for us now, as the rise in production has ruined the markets," Mohit Singh, a 33-year-old potato farmer from Kamalpur village in the Kaimganj block of Farrukhabad, told Gaon Connection.
Also Read: Good news for potato farmers as scientists find a way to fight blight
Because of the surplus, the market rate of potatoes this year has been abysmally low. "We are barely getting Rs 500-Rs 700 for a quintal (100 kgs) of potato. With these prices, profit is impossible to imagine," Singh said.
A harvest of loss
As per the data provided by the Union Ministry for Agriculture and Farmer Welfare, potato production in the country rose to 53.69 million tonnes in 2020-21 as compared to 48.56 million tonnes in 2019-20.
Uttar Pradesh, which is India's highest potato producing state, contributes 35 per cent of the country's total potato production. With 610,000 hectares area in the state under potato cultivation, 14.78 million tonnes of potato was harvested in 2019-20.
"This year (2020-21), the farmers increased their yield by cultivating potatoes on higher acreage," Ganesh Chandra Mishra, horticulture inspector in Barabanki district, told Gaon Connection.
Also Read: Green chilli farmers in the red
According to him, this year almost 18,000 hectares of potatoes were cultivated in Barabanki district and optimum weather conditions resulted in a bumper crop. Last year, 16,000 hectares of land were under potato cultivation.
"The total production in the district has been four hundred and fifty thousand quintals this year," Mishra said.
"Last year, almost seventy per cent of the potatoes were taken out of the cold storage by September but this year no more than thirty four per cent of the potatoes have been taken out of the storage," the horticulture inspector added.
Also Read: Healthy Returns: Vegetable and fruit cultivation picks up momentum in India
There are 34 cold storages in Barabanki and they have a capacity of 354,000 quintals, Mishra added.
'Potato prices expected to crash further'
"The next harvest will be ready around Diwali. In my opinion, farmers should now take the potatoes out of storage and sell them at whatever prices they get because the prices will crash further after the new harvest arrives," Saurabh Srivastava, horticulture director in Sitapur, told Gaon Connection.
According to Srivastava, a total of 30,000 metric tonnes of potatoes have been stored in the cold storages in the district and so far only 10,000 metric tonnes have been taken out for selling so far.
Also Read: UP's first Integrated Pest Management outlet opens in Sitapur; farmers chosen as IPM ambassadors to reduce pesticides use
Predictably, there is despondence in Sitapur.
"Farmers are bound to sustain heavy losses this year," Harnaam Maurya, a potato cultivator from Mehmoodabad, Sitapur, told Gaon Connection. He added that the low price of potatoes has destroyed all hope he had of recovering the losses he had incurred when the other vegetables he had cultivated had also failed.
"An acre [0.4 hectare] of potatoes requires an investment of anything up to sixty five thousand rupees and all things going well it will yield about hundred and twenty five quintals of produce," Maurya explained.
Keeping the potatoes in cold storage costs around Rs 400 per quintal, he said. "The present rate for the potato is approximately six hundred rupees per quintal. So, the farmers are bound to sustain heavy losses this year," Maurya pointed out.
Meanwhile, many farmers in the state are resigned to a bad season ahead of them.
"It is certain that in a few days, you will see farmers throwing away their potatoes as putting them in cold storages will only add to their losses," Mohammad Alam from Barabanki's Fatehpur block told Gaon Connection.
Fuente: https://en.gaonconnection.com/potatoes-farmers-uttar-pradesh-barabanki-diwali-agriculture-farming-covid19-lockdown/