Jamaica: Ministry plants seed of faith in potato, onion farmers
The Government has intensified its plan to put 1,500 hectares of land under Irish potato cultivation and to increase onion production in the next planting season.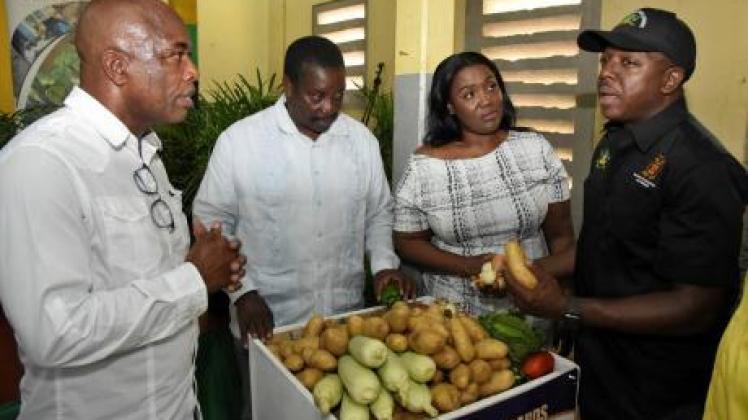 Pearnel Charles Jr (right), minister of agriculture and fisheries, quizzes Loxley Waite (left), national coordinator for the Irish potato and onion pr
Approximately $200 million has been seeded to the programme to provide incentives to small farmers, with $150 million of the amount for Irish potato production.
Seeds will be made available to the farmers by mid-October.
Speaking at Wednesday's launch at the Guy's Hill Community Centre, Agriculture and Fisheries Minister Pearnel Charles Jr said the investment was part of a wider plan to assist farmers.
The initiative is in the context of the August commissioning of two brand-new backhoes, worth almost $40 million, that will assist in land preparation.
Headlines Delivered to Your Inbox
Sign up for The Gleaner's morning and evening newsletters.
"I will reaffirm that we have a special-incentive programme that is valued at $63 million to assist farmers with land production," the minister said, adding that the Rural Agricultural Development Authority (RADA) had already received the first drawdown of $20 million.
REINVIGORATED
Collin Jackson, who heads the Lucky Hill Farmers Group in St Mary and who has been a cultivator for 30 years, had all but given up on Irish potato production. But having witnessed the launch of the campaign, he has been reinvigorated to get involved.
"I am anxious to get back into Irish potato production to see how I can benefit financially and to see how I can enhance this programme," Jackson told The Gleaner.
"I see planting Irish potato as a viable option to increase earnings from farming."
He said one of the issues that he faced when he cultivated Irish potato was land preparation.
"There was not enough equipment on the ground to reach every small farmer, but with this announcement by the minister, I will be able to overcome this challenge," Jackson said.
Charles urged farmers to immediately contact their RADA offices to benefit from their first acre of land prepared free of cost.
The minister said that the expanded production plan for onions will see the ministry targeting the traditional parishes of St Elizabeth, St Catherine, Clarendon, Trelawny, and St Thomas.
He said that non-traditional parishes will also get support from the ministry.
Charles said the Government aimed to increase production by 100 per cent, with the long-term goal of tapping demand for Jamaican Irish potatoes in Caribbean markets and exporting excess produce.
Fuente: https://jamaica-gleaner.com/article/lead-stories/20220901/ministry-plants-seed-faith-potato-onion-farmers