Canada: P.E.I. potato farmers concerned about wet conditions as harvest begins
The potato harvest is just about to get underway in many parts of P.E.I., and many Island farmers are wondering what all the rain this summer is going to mean for this year's crop as they head out into the fields.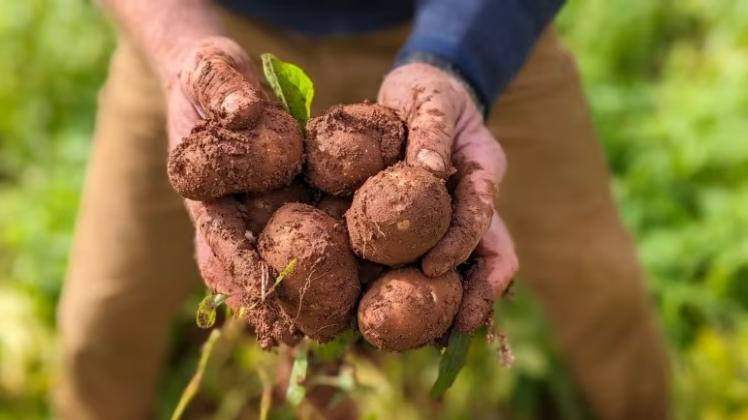 Producers will have to take precautions, board says
Greg Donald, general manager of the P.E.I. Potato Board, said the crop is looking good, but not as good as last year when it was almost an ideal season.
"I think we had every bit the crop, the potential, as last year. But with the ongoing cooler and wet weather, I think that's going to affect some of the productivity," Donald said. 
Get the news you need without restrictions. Download our free CBC News App.
Donald said harvesting will be more difficult this year due to the excessive moisture, meaning operations will slow down. 
The weather may have also damaged the crops, he said.
"Potatoes that are in very wet conditions, there can be issues with tuber rot, especially in the high-risk areas, in low areas or poor-drainage areas of the field."
Donald said producers will pay extra attention to the wetter parts of their fields and take precautions.
With the ongoing cooler and wet weather, I think that's going to affect some of the productivity.
—Greg Donald, P.E.I. Potato Board
"They will identify those areas of the fields before harvest, and watch those areas very closely," Donald said.
"If there's some issues, they'll perhaps leave those and harvest them later, segregate them in their potato warehouses and manage them differently, maybe with more ventilation. And in some cases, may decide to leave them in the field."
Hit to the bottom line
Donald said the wet conditions could affect the bottom line for farmers, should they need to cull the damaged potatoes. 
"The best we can hope for is that from this point on, we get warmer than normal temperatures, sun," Donald said. "We don't need any more rain this fall."
P.E.I. potato farmers say post-Fiona damage adding expenses during busy harvest
P.E.I. potato harvest better than last year's 'nightmare,' but not without challenges
There have been other years with wet conditions that disrupted the potato harvest.
In 2018, there were 7,000 acres of potatoes left in the field as the cold and rain that year put an early end to the harvest.
Last fall, potato producers were dealing with the aftermath of post-tropical storm Fiona.
'The rain needs to stop'
Colton Griffin, vice-president of WP Griffin in Elmsdale, said the rain has been an ongoing issue in the western end of the Island.
"We had a bad start with a lot of rain during and at the end of planting, just as stuff was starting to push through the soil," he said.
"There was a lot of drown-outs right at planting time."
Griffin said the next challenge is getting what they can out of the wet fields, and into storage.
He said the company would usually start harvesting mini-potatoes in mid-September, but that hasn't started yet. 
"The rain needs to stop and needs to dry up as soon as possible for us to have a chance of having a good storage season," Griffin said.
Wet and humid P.E.I. summer has left some grain growers in 'lots of hurt'
Rain 'always a good thing' — but maybe not this much, P.E.I. farmers say
"I'm hoping we might be able to start the mini crop by the end of the week, but every hour it looks less likely because it just keeps raining."
Griffin said he needs to get the potatoes out of the ground by Halloween, or else risk frost.
He said he remembers the last time the ground was wet as they tried to harvest. 
"Five years ago, that was complete misery, and we just couldn't get on the fields after the 1st of October. It rained basically every day, every second day," Griffin said. 
"I'm hoping that's not the story this year, because it's so wet already that it wouldn't take much to keep the ground muddy right through the end of October. "
Fuente: https://www.cbc.ca/news/canada/prince-edward-island/pei-wet-fields-rainy-weather-potato-harvest-2023-1.6972967