Italia: Satisfactory exports for new potatoes from Syracuse
The new potato campaign in Syracuse (Sicily) started already one month ago. "We were the first to start. Last year, we did not work with the foreign markets much but, this year, we are working well with French distribution chains and have strengthene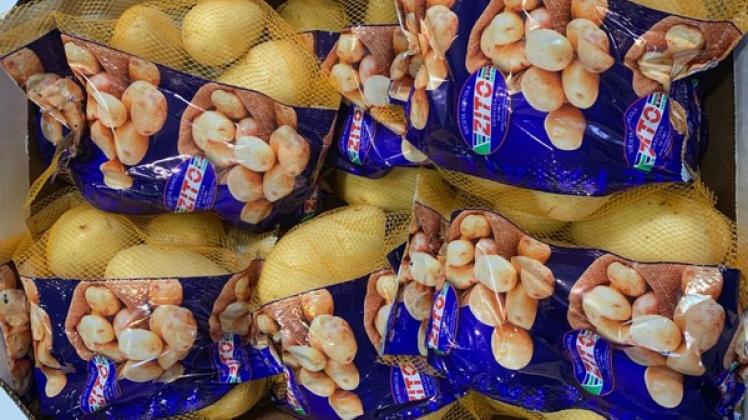 New potatoes in vertbags (LinkedIn photo by Tonino Zito)
Over 50% of our produce is currently sent abroad, against the 10% of 2020. Exchanges are rather slow on the domestic market," explains Tonino Zito, sales manager at Soc. Agr. Zito & Co. "We are pleased that the French retail chains appreciates our product. Quality is pleasing buyers and we have improved the packaging, which has not gone unnoticed."
"Costs to grow new potatoes are high even before the tubers form, which must then be harvested by hand. We must also consider all the risks linked to the weather."
This year, quantities are higher and the company is selling all the produce. "Our tubers are all processed and packaged during the current campaign. During the previous campaign, we had also shipped loose produce in big bags. On the foreign market, we work mainly with certified rather than outgoing weight like we do in Italy."
As for competition, the entrepreneur reports that from Italy, Morocco, Egypt and Cyprus when it comes to the French market.
"In 2020, we basically registered three campaigns when it comes to quotations: March was calm with average prices, April saw exceptional consumption with very high prices and the market dropped in May after the lockdown. This year, consumption was good in March and April saw a good demand with fair prices."
New potatoes from Syracuse after being washed. (LinkedIn video by Tonino Zito)
The company produces 90% of the goods. "Compared to last year, prices are 20-30% lower. Demand and supply are balanced and, at the moment, we are working to the best of our abilities. Even though most of our labor comes from outside the EU, we are also trying to respect the Ramadan schedule."
Fuente: https://www.freshplaza.com/article/9314325/satisfactory-exports-for-new-potatoes-from-syracuse/