Italia: A positive time for the potato market
There is a high demand for potatoes and prices are bringing some relief to producers. Within this trend, the Italian company Selenella is strengthening its market position, according to Massimo Cristiani, president of the consortium.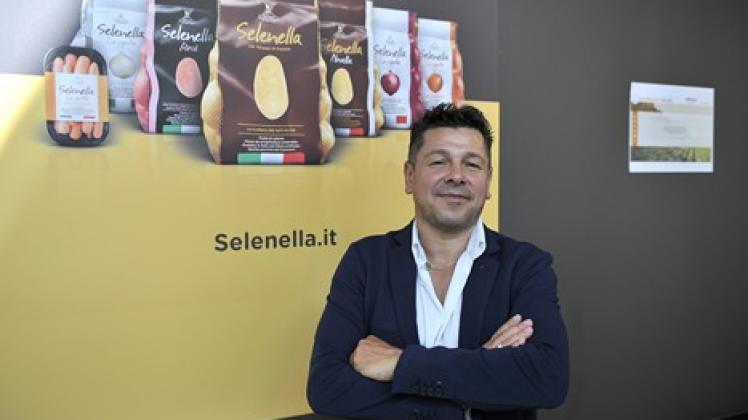 "The sales season is positive for the all the market and we are growing steadily. Yields have been average, despite the drought, and consequently the production volume we are going to place on the market will be as expected, or at most, with a slight drop. In the early segment we had slightly lower yields than the average, but they have recovered in the late segment.
The large-scale retail trade now accounts for over 80% of our sales. Our strength lies in the fact that it is the consumer who seeks out our brand, so we are in a privileged position. The most popular pack is the 1.5 kg net," continued Cristiani.
 Massimo Cristiani
However, there are also some difficulties, such as the increase in raw material costs which is affecting the profit margins of producers. A few weeks ago, a large-scale retail chain stated, through its representative, that the chain must absorb these higher costs. I would like to point out that the costs must be absorbed by everyone, including the large-scale retail trade and consumers," added the president.
One problem that has existed for a number of years now, i.e., since certain chemicals were banned, is the elaterid. "We are investing in research to find a solution, to integrate agronomic practices that can reduce the problem, but it is not easy. We are in constant contact with the regional government and the phytosanitary service in order to monitor the situation and find solutions".
According to Cristiani, everyone should pay more attention to the production base. "If the farmer is doing well, if he is making a profit, the whole chain benefits. Sometimes 10 cents more or less per kg is enough to determine the failure or success of a business. When a farmer makes an income, he is ready to reinvest the profits immediately along the supply chain, renewing technologies, cultivating new varieties. You are unlikely to find a farmer who spends his earnings on holidays; he is much more likely to make investments in improving business efficiency."
For more information:
Consorzio Patata Italiana di Qualità
via Tosarelli 155
40050 Villanova di Castenaso (BO) - Italy
+39 051 5872419
Fuente: https://www.freshplaza.com/article/9362286/a-positive-time-for-the-potato-market/