Bangladesh: Sun shines on farmers of North
Farmers are making a windfall profit selling early variety of potatoes in different villages of Lalmonirhat and Kurigram.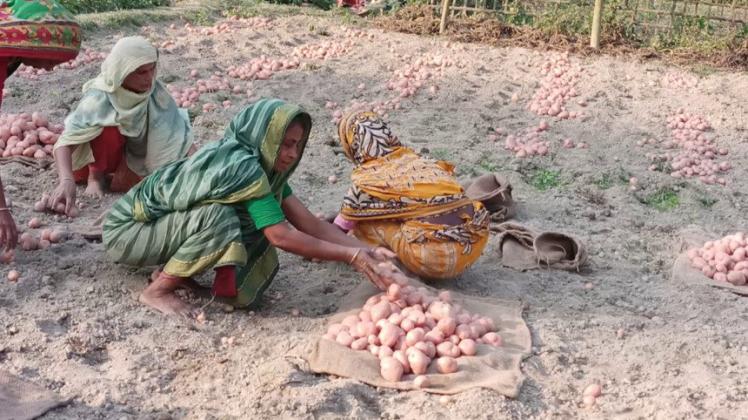 Farm labourers spending busy time harvesting early potatoes. The photo was taken from Kochabari village in Lalmonirhat Sadar upazila on Friday. Photo:
They are also happy to get the desired yield of potatoes in the region this year thanks to favourable weather and quality seeds.
For all latest news, follow The Daily Star's Google News channel.
Farmers said the early variety of potatoes has already been available in the local markets and the price is also good with per kg of potatoes being sold at Tk 25 to Tk 30.
Although the early variety has been being harvested, the sowing of the seeds of late varieties will continue till the first week of February, they added.
Early potatoes were being sold at Tk 65 to Tk 70 per kg only four weeks ago when they hit the markets for the first time, however, the price dropped sharply following the availability of the kitchen staple, the growers said.
Agriculture office sources said an increasing number of farmers have been cultivating early varieties of potatoes at different villages under five upazilas in Lalmonirhat and nine upazilas in Kurigram. A total of 33,500 hectares of land has been brought under potato cultivation in 14 upazilas of the two districts. Of which, the early variety of potatoes was cultivated on 1,600 hectares of land.
Farmer Afzal Hossain of Nazimkhan village in Kurigram's Rajarhat upazila said he cultivated the early variety potato on four bighas of land spending Tk 20,000.
"I have already sold 2,600 kgs of early potatoes at the rate of Tk 40 to Tk 30 per kg in the last three weeks and I hope that I will be able to sell 1,400 to 1,500 kgs more within the next week," he said.
Farmer Nagendranath Barmon of Kamlabari village in Lalmonirhat's Aditmari upazila said he has made an excellent profit cultivating early variety potato on his three bighas of land this year.
"I have cultivated early variety of potato on the land after harvesting Aman paddy," Barmon said, adding that he has already earned Tk 65,000 selling early potatoes.
Deputy Director of Department of Agricultural Extension (DAE) in Lalmonirhat Shamim Ashraf said a good number of farmers have made windfall profit selling early potatoes.
The agriculture officials provided technical support to the growers, he added.
Fuente: https://www.thedailystar.net/news/bangladesh/agriculture/news/sun-shines-farmers-north-2932706