EEUU: Spud summit sows seeds for in-state potato producers
KEYSER, W.Va. — Where do you get the millions of pounds of potatoes a national chip company consumes annually? Someday, maybe right from West Virginia.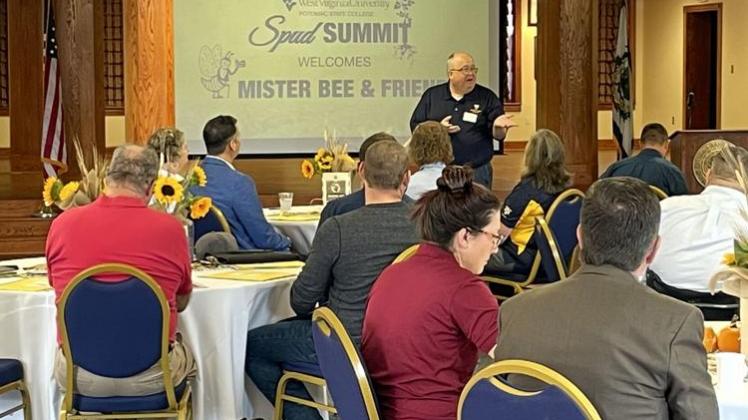 The seeds for a successful statewide potato growing program were planted Thursday at WVU Potomac State College, and participants are hopeful the idea will take root outside of the state.
The college's first West Virginia Spud Summit is designed to connect state and local business and agriculture experts with staff from the West Virginia Potato Chip Co., the maker of Mister Bee potato chips.
Interim Potomac State President Chris Gilmer said the idea for the summit stemmed from his time as president of WVU Parkersburg, where he first connected with the company and its president, Mary Anne Ketelsen. The intent, he said, is to start an in-state potato growing program to supply the state's sole manufacturer of the crispy snacks with all the spuds they need to make their products.
The potato was celebrated in everything from the bags of Mister Bee chips on the tables and the centerpieces that adorned them to the sweet potato pies Gilmer prepared personally from his great grandmother's recipe to serve with lunch. The event also showcased the college — the lunch served included pizza and salad prepared by students and featured produce and meat they cultivated.
Mister Bee, Gilmer said, is "a woman-owned business that is expanding and growing into a national powerhouse — and happens to make the best potato chips in the world."
While at WVU Parkersburg, Gilmer said, the campus started the process of reclaiming and preparing a "small but mighty" 20-acre farm for the purpose of potato cultivation. Those efforts continue under current Parkersburg interim President Torie Jackson.
Because Mister Bee uses roughly 9 million pounds of potatoes a year to make chips, the idea is to form a coalition of farmers throughout the state — and eventually from neighboring states as well — to spawn the spuds for the company, Gilmer said.
Rob Graham, Mister Bee's sales director, said the company goes through "somewhere between about seven to 10 million" pounds of potatoes a year in the pursuit of producing chips and sticks in a range of flavors and textures.
"So, we need all the help that we can get," he said.
Graham and production manager Jim Allen have worked to replace the plant's equipment and obtain new certifications since coming on board years ago, and they hope to continue expanding. Plans include potentially adding a second fryer to increase production. The current fryer produces about 1,500 pounds of chips hourly "and we're running pretty hot," he said.
The 50,000 pounds of potatoes used daily "only gives us about 12,500 pounds of the finished product," Graham said.
Purchasing potatoes from in-state producers, Graham said, would both save the company money and permit them to pay farmers more, as the company would save on shipping costs. They might also lose fewer potatoes in transport.
"I think it would work great for both of us," said Graham.
WVU professor Donna Ballard explained some of the science.
"It might not be the standard potato that people are used to growing in the state of West Virginia, but I think you can do it," she said.
Through collaboration, Ballard said, they can provide interested farmers with production guidelines to help them grow chipping potatoes successfully.
"We want everybody involved. We want everybody learning how to do this," Ballard said. "We think maybe we can expand beyond borders, and look at the Appalachian region as a growth potential for this."
In a brainstorming session, Gilmer asked attendees to weigh in on "what the questions are that we need to get answered." The crowd presented everything from inquiries about transportation and production volume to thoughts about potential obstacles, which Gilmer characterized not "as naysaying, but we take it as realism."
Fuente: https://www.times-news.com/news/local_news/spud-summit-sows-seeds-for-in-state-potato-producers/article_b77953e2-3529-11ed-aeee-fbc20572e8b3.html