Sudáfrica: South African potatoes: full market, but slower sales than before
The handover from central to northern production areas over late winter and early spring is a major period of transition within the South African potato season, and often results in a dynamic market.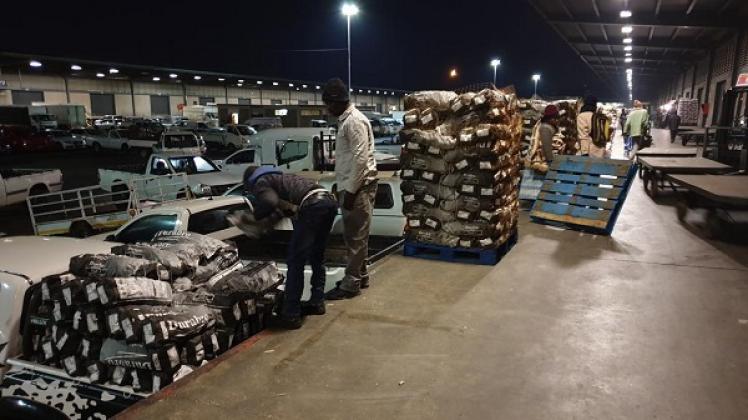 "Last year around this time, the Eastern and Western Free State, as well as the Northern Cape had ended earlier, while the early harvest from Limpopo sustained cold damage. That was not the case this year," says Janó Bezuidenhout, manager of information at Potatoes South Africa.
Last year a potato shortage developed for two weeks during the transition period; this year's potato market has been the opposite, as the South African potato industry readies to meet for its annual potato and seed potato congress next week.
YTD potato price 44% lower than 2021
The average daily supply of 10kg bags of potatoes on the market has, over the past two weeks, been more than a million bags (supply sufficient for several days) while sales, he says, have been on average 410,000 bags per week.
Limpopo potato growers have had a good growing season and have been exceeding their five-year sales average. They will now be supplying the market until December.
Limpopo potato sales have been exceeding the five year average
The Western Free State also brought a larger potato crop than last year to market, while the majority of Eastern Free State producers have finished their season, although a few are still supplying (around 106,000 bags last week came from this region).
Northern Cape potato production has seen a significant decline over the past few years and the region is almost two million bags below its five-year sales average.
Potato prices are significantly lower than the past two years; at the moment large class 1 potatoes are trading at the price levels usually attained by medium potatoes. The average price for a large class 10 kg bag is R49 currently and on average potato prices are 44% lower than last year.
"Stagnant prices are clearly felt throughout the industry and it's concerning to us. It obviously relates to the pressure bearing down on consumers. When, for instance, one compares it to the average price last year this time, current prices are considerably lower.
SA has processing capacity for upwards of 400,000t potatoes
After a 13% increase in sales at the end of last month, sales have over the past week come down slightly.
Overall sales are almost 3 million bags below the five-year average for the first 36 weeks of the year (although the inverse is true for Limpopo which has sold a million bags more than the province's 5-year average).
From the start of the year, 75.2 million bags of potatoes have been sold on South Africa's fresh produce markets, compared to 83 million bags in 2018.
Buying potatoes pre-dawn at a Gauteng fresh produce market. Potatoes account for over 37% of all vegetable sales at the country's wholesale markets.
Janó ascribes lower sales to the pressure bearing down on consumer. "Increases in the price of cooking oil has had an impact on demand for potatoes to make French fries. According to figures from the Bureau for Food and Agricultural Policy, consumers have moved back to basic staple food over the past year."
The South Africa processing sector have shown the capability to process at least 400,000 tonnes of raw potatoes; in 2018 as much as 436,000 tonnes were processed.
For more information:
Janó Bezuidenhout
Potatoes SA
Tel: +27 12 349 1906
Email: jano@potatoes.co.za
Fuente: https://www.freshplaza.com/article/9459737/south-african-potatoes-full-market-but-slower-sales-than-before/