Japón: Japan loves fresh potatoes. But can WA state growers deliver the spuds?
Japan imports fresh potatoes to make potato chips, but Washington's growers are pushing for greater access to a market that could be worth $150 million.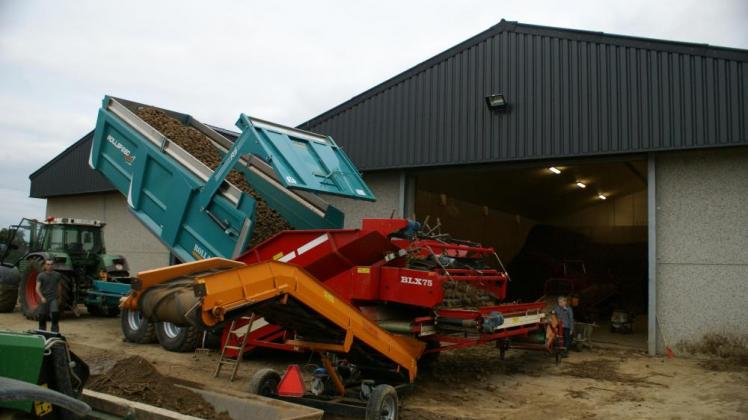 U.S. Sen. Maria Cantwell, D-Wash., led a letter signed by most of the Washington congressional delegation and addressed to U.S. Secretary of Agriculture Tom Vilsack, urging the Biden Administration to prioritize fresh potatoes as it prepares to negotiate a bilateral trade deal with Japan later this year.
Japan imports an estimated $220 million worth of frozen and processed potatoes, but the market largely closed to fresh spuds despite their popularity in the Japanese diet. Japanese farmers cultivate potatoes as well.
U.S. growers believe exporting fresh potatoes to Japan could be equal in value to Mexico, which opened the area beyond the border zone to fresh U.S. potatoes last year and has a target value of $150 million.
Potato shortage
U.S.-grown potatoes were in short supply in 2022, thanks to lower yields and high prices. There isn't enough to meet current demand and adding acreage is complicated by water concerns and crop rotation requirements unique to potatoes.
That begs the question: Why pursue a new market with such vigor?
Chris Voigt, executive director of the Washington Potato Commission in Moses Lake, said opening new markets is a long-term strategy.
One year's shortage is another year's surplus, as in 2020, when the COVID-19 pandemic prompted processors to cancel contracts, leaving growers with a "staggering surplus."
Voigt notes that Japan is wrestling with an aging population, which includes its farmers.
A new market offers U.S. growers an alternative to the contracts that pay a 7% average return to deliver potatoes to processors. More buyers means more leverage at the negotiating table.
The issue is important to the U.S. potato industry, but Washington will be the biggest beneficiary of the new market courtesy geography and shipping ports at Seattle and Tacoma.
"It gives growers an option," he said.
Pest management
The potato industry has pushed to open trade with Japan for 30 years.
Before U.S. growers can dispatch even one fresh potato, Japan must provide a Pest Risk Assessment to identify pests of concern. With that information, U.S. growers can develop plans to meet hygiene requirements.
Japan conducted a similar review in 2006, when it opened the market to potatoes for processing under pressure from its own processors. The letter to Vilsack said it proves potatoes can be safely exported.
"There is no valid phytoanitary justification for the market to remain closed or for the government's current refusal to negotiate," the letter said. It was also signed by U.S. Sen. Patty Murray, D.-Wash., U.S. Rep. Dan Newhouse, R-Sunnyside, and U.S. Rep. Cathy McMorris Rogers, R-Spokane.
Top crop
Washington's 2021 potato crop was worth $712 million to the state's $10.2 billion agriculture sector in 2021, according to figures released in late 2022 by the USDA's National Agricultural Statistics Service.
They are fifth, after apples, milk, cattle/calves and wheat, according to NASS.
Washington is the nation's second leading producer of potatoes, after Idaho. An estimated 90% of the state's potato crop is grown under contracts to processors such as JR Simplot and Lamb Weston.
The food processing giants transform them into frozen french fries, tots and other consumer-facing products. Their plants dot the Mid-Columbia and employ thousands.
Voigt said the 2023 growing season is off to a slow start because of the cool, rainy weather that persisted until mid-spring. He's optimistic that warmer weather will give potatoes a chance to catch up. A stretch of 80-85 degree-days is ideal, he said.
Nearly 75% of Washington potatoes had been planted by mid-May, about 15 percentage points behind the five-year average, according to the USDA's National Agricultural Statistics Service.
Washington' potato growers harvested nearly 155,000 acres in 2022, unchanged from 2021.
The industry is concentrated in the Mid-Columbia in Benton, Franklin, Adams, Grant, Walla Walla, Kittitas, Yakima and Klickitat counties and in Whatcom and Skagit counties in Western Washington.
Fuente: https://www.yakimaherald.com/news/northwest/japan-loves-fresh-potatoes-but-can-wa-state-growers-deliver-the-spuds/article_d0284b9f-3a11-5058-b032-a9550218cf48.html