Irlanda del Norte: Northern Ireland potato crops being hit by changing weather
Baked, boiled, roasted or chipped, the humble spud is a dinner staple. But producers have warned that changing weather conditions are hitting growth.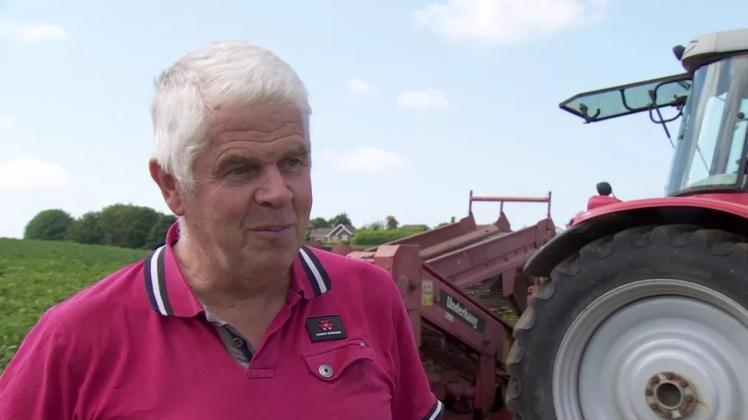 A dry February allowed farmers to plant their early crops but then the rain came. And now there is not enough of it.
William Gilmore is a fifth-generation potato farmer at Gilmore Farm Produce, growing his crops in the shadow of Scrabo hill in County Down.
"Potatoes need water very regularly to fill them out and make them grow," he said.
Mr Gilmore is beginning to lift his early harvest now but he is worried about what comes next.
"The later crops, the second earlies, are more a concern, because they're at tuber initiation stage," he said.
"To prevent scab on skin, we need water fall."
But with dry weather set to continue, the main crop is likely to be delayed.
That will have implications for the consumer and food businesses, according to Angus Wilson of potato producers Wilson's Country.
"The market has skyrocketed because there's not enough potatoes over the next two or three months," he said.
He is in no doubt that climate change is playing a part.
"The weather seems to come in blocks now - it's dry for a longer period, then it's wet for a longer period.
"Sunshine and showers are perfect for growing potatoes, and that's not how we're getting our weather these days."
2022 was one of the driest years on record right across Europe.
That led to a shortfall of about two million tonnes (4,409 million pounds) of potatoes, while demand has held steady.
And where demand outstrips supply, prices will always rise.
"There's already been impact on chip shops but across the whole [sector] where potatoes are used there is going to be increased cost for potatoes and [it] may be significant," Mr Wilson said.
"If we get an ideal growing season it's already been challenged because it's so late, but if there's another weather period that's not ideal, potatoes could be really expensive, but hopefully not."
But that could help growers, who have been dealing with rising fuel and fertiliser prices.
"These last two years it has been difficult because inputs were so high - fertiliser costs, everything is rising in price," Mr Gilmore said.
"The returns are going up slightly but we're still looking returns to go up more to justify what we're doing."
Fuente: https://www.bbc.com/news/uk-northern-ireland-65778102