EEUU: Large crop and transport issues weigh on potato supply
Red River Valley potato growers still have an abundance of supplies in storage, especially red potatoes. In fact, according to USDA statistics, as of April, there were 18.7 percent more potatoes in storage in North Dakota .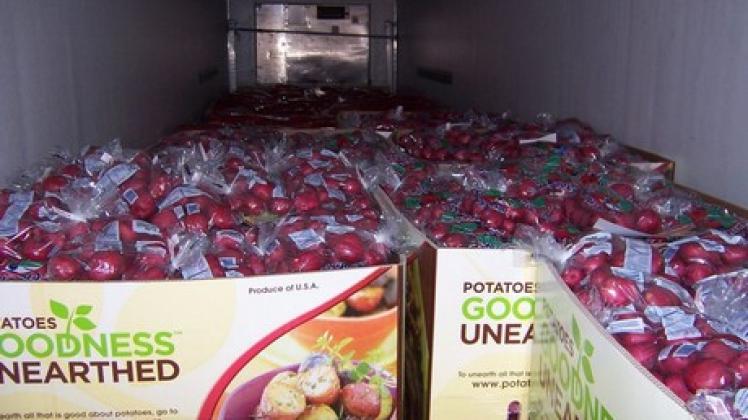 The amount remaining should last until the end of June and into early July, but prices are low and growers are not seeing too much demand. Quality is good however, and the issue is mainly only affecting reds, while yellow potato supplies are now almost exhausted in the district.
"We had a big crop last year and we still have adequate supplies shipping out of storage," said Dave Moquist of O.C. Schulz & Sons in North Dakota. "In the last few years, it seems we have gone from one extreme to the other. The 2016/17 crop was much lighter in comparison with last season's and this may have had an effect. Demand is light although we did see good movement on yellow potatoes this year. Supplies of yellows are now very limited in the Red River Valley, but for some reason, demand for reds has been a little off."
Transportation a big factor
Around New Year, a severe truck shortage affected the majority of fresh produce across the United States, not least potato growers, with all regions being affected. Moreover, it came at a time of higher demand when potato suppliers had the orders, but had difficulty getting them to receivers. Moquist believes this has had a rolling impact that has stretched to the situation that's currently being experienced.
"The transportation problems during the winter resulted in a lack of movement just when we had the business," he said. "This also led to retailers being coy on promotions as they lacked the confidence of a steady supply stream. As a result, movement on reds stagnated and inventories did not reduce as we hoped they would."
Planting to get under way in the coming week
Planting in the Red River Valley is scheduled to begin during the week of May 14. Some growers have already moved into the fields, but these are mainly for the processing and chips markets. Weather conditions in the lead up have so far been good, but it's still early days and there is a long way to go.
"Some potatoes have already been planted," Moquist observed. "But these are more so for processing and chips - they're more eager to get going. For the fresh market, planting is scheduled for next week. So far, the weather has been good, but many things can happen during the growing season."
For more information:
Dave Moquist
O.C. Schulz & Sons
Tel: +1 (701) 657-2152
dave@ocschulz.com
Fuente: http://www.freshplaza.com/article/194424/Large-crop-and-transport-issues-weigh-on-potato-supply