Kenia: Tractors boost Mau farmers' potato yield in Narok
Lack of information and lack of farm machinery reduce potato crops in the region formerly known for wheat production.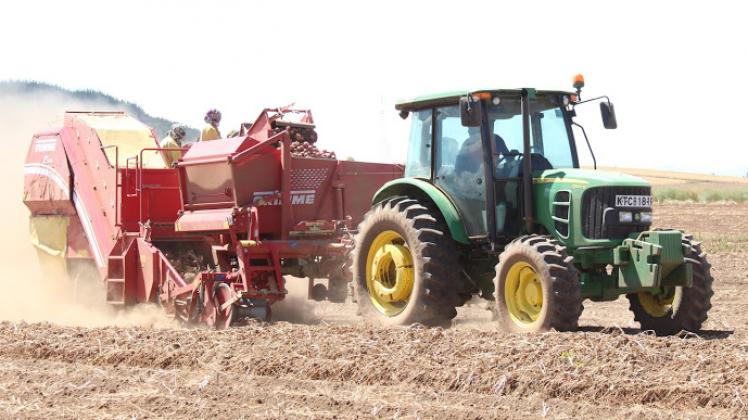 TRACTORS RULE: A tractor harvests potatoes in Mau area of Narok county. Image: KIPLANG'AT KIRUI
• TingA, East Africa's largest network of farm equipment, has been helping farmers in the Mau area of upper Narok to reap big from potatoes, the third most popular crop in Kenya.
Demand for potatoes has been on the rise during the Covid-19 pandemic as they can be stored longer than other vegetables.
Potato prices have been rising and traders have been making big profits.
Potato farmers struggle, however, to make ends meet due to improper land preparation, poor cultivation and post-harvest losses.
TingA, East Africa's largest network of farm equipment, has been helping potato farmers in the Mau area of upper Narok county to reap big from the third most popular crop in Kenya. It's working with the European Union's Agrifi project.
The region had been known for wheat production but there's more money in potatoes.
Speaking while training farmers, TingA CEO Phillip Nyandieka said, "We realised most farmers fail to prepare their land well and hence are not able to get the anticipated returns, making them shun farming."
Good harvests are cultivated from the land preparation stage and failing to get it right from the beginning means it's hard to fix the problem after planting, he said.
"That's why before we take up a farmers project, we train them to ensure they get value for investments," Nyandieka said.
The firm has trained more than 8,000 farmers countrywide and offers mechanisation services. Together, the training and tractors have improved yield more than threefold in various regions.
He said that with Self-Help Africa, the company has helped farmers modernise and harness their full economic, employment and export potential.
Despite problems implementing the project due to the Covid-19 pandemic, the goals are almost realised, the CEO said.
"Farmers have benefited from our training and mechanisation services. Production has increased by at least 300 per cent and  post-harvest losses have declined by 90 per cent," he said.
Therefore profits have increased and livelihoods have improved.
The firm received a grant of Sh51.2 million from the EU through Self-Help Africa to facilitate training, especially of smallholder farmers, and to ease access to farm machinery in Narok.
Due to the semi-arid nature of the county, training and mechanisation focusses on conservation agriculture, especially conservation tillage.
Farmer Zakaria Merkum in Narok said, "In the past we used traditional methods without knowing we could get more by using machinery. Most of us thought it was too expensive."
In fact, he said, using machinery is cheaper in the long run than manual labour.
"It's more efficient, reduces losses from theft and saves time," Merkum said.
He said the biggest challenge in the Mau area has been accessing farm equipment, making farmers resort to traditional techniques, which reduce yield.
The farmers get hands-on training through the firm's Narok Hub and its partner. The firm has a pool of equipment operators and mechanics to maintain the farm machinery.
"When schools open, I don't think school fees will be a problem like before," Naomi Koika said.
"Since we started using machinery in land preparation, planting, spraying and harvesting, we can harvest more than in the past. The equipment helps us earn more profits that we plough back into other projects."
(Edited by V. Graham)
Fuente: https://www.the-star.co.ke/counties/rift-valley/2020-09-30-tractors-boost-mau-farmers-potato-yield-in-narok/