Gran Bretaña: Potatoes – Integrated approach for PVY
Seed potato producers are leaving no stone unturned to slow the proliferation of virus in British stocks, with straw mulches and mineral oils set to compliment systemic insecticides as part of a robust integrated pest management (IPM)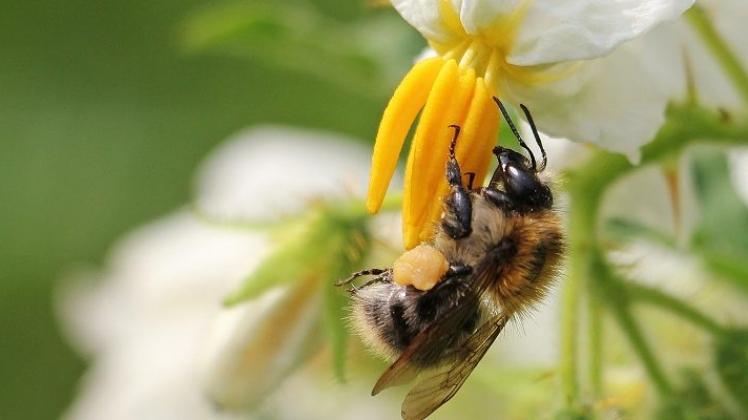 We should no longer be applying pyrethroids at all.
By Rob Jones and Lucy de la Pasture
Virus levels in Britain's seed potato stocks have been increasing in recent seasons, most acutely in English-grown seed but Scotland has also seen infection creeping north. It's a situation that's prompting some concern for potato growers.
Seed certification schemes in Scotland and England are designed to reassure ware growers that the seed they buy meets the quality specifications of each grade, including virus levels. Visual inspection of the growing crop has long been used to identify infection before haulm destruction and has historically been a reasonable indicator of infection levels in daughter tubers.
Potato Virus YN (PVYN), a non-persistent potyvirus, has taken over as the dominant strain from PVYO. The change in dominance has put pressure on the seed inspection system because, unlike the previously dominant strain PVYO, PVYN doesn't as readily express classic mosaic symptoms in infected plants. This makes visual observation alone a less reliable means of judging primary and virus levels, according to Scottish Agronomy's Stevie Gray.
Furthermore, mature plant resistance to PVYO was a useful factor in supressing late season transmission, but this isn't the case with PVYN, so there may be an underestimation of late-season transmission within seed crops, he suggests.
On top of an evolving mosaic virus population, resistance to pyrethroid insecticides has also been creeping into many non-colonising aphid vector populations, including cereal aphids, black bean aphid and willow-carrot aphid, which is now seen as a major player in non-persistent virus spread. There has also been a slight uptick in the persistent potato leaf roll virus (PLRV) in some areas of the country.
"The colonising peach-potato aphid has long been known to carry genetic mutations that confer resistance to pyrethroids, and this may also be a factor in rising levels of PVY and PLRV."
This lengthy list is by no means exhaustive – there may be other seasonal effects and commercial decision-making at play – but it clearly shows why virus control is an increasing concern, he points out. So, what can growers do to stem the tide this season and beyond?
Stevie says a major consideration is variety, with some having a higher propensity to visually express and transmit virus than others. From crops entered into Scotland's seed potato classification scheme (SPCS), just five varieties were responsible for 59% of PVY positives. For PLRV, just four were responsible for a massive 84%.
He argues that for varieties with a higher propensity to virus, more vigorous tuber testing of input stocks is required, taking the view that this will increase confidence levels and inform when to take unsuitable stocks out of the multiplication system at an early stage.
Typically, post-burndown pre-harvest tuber sampling or sampling from within stores takes 100 tubers for a growing-on or PCR test. Stevie proposes increasing this to at least 200 tubers, but up to 400 tubers for early field generations of high-risk varieties.
"Sampling protocols also should be tightened up to ensure a representative sample, with tubers only taken in the field, not out of boxes in store. Rather than samplers following a traditional "W" pattern, it would be best to walk along beds at regular intervals across the field, taking one representative tuber from each plant. This is more likely to catch primary virus infection, which usually occurs in an aggregated distribution," he suggests.
"It will increase costs but if we start at the top, with lower field generations, and shake the branches on the way down, it will flush virus out the system. It has to be better than blindly re-planting seed that might be harbouring and spreading the problem."
Independent agronomist Ralph Nunn, who looks after a number of seed growers in North and East Yorkshire, has seen virus levels gradually rising in recent years and particularly during the past two. His growers on the Yorkshire Wolds have moved to voluntary tuber testing and flushing infected stocks out of the system, recognising clean input stocks are the number one factor in producing healthier seed.
There is also a one in-one out policy, so no seed stock is multiplied for more than one year. This is a major concern in Yorkshire because seed growers are incurring higher costs and getting lower returns as a result.
Ralph is also considering varietal propensity in his management strategy. At present, it isn't practical or commercially viable to grow only low propensity varieties like Melody or Sagitta, so he would like to see virus become a greater breeding priority in the long term. In the short term, he will keep high propensity crops isolated to avoid transmission to, and downgrading of, lower risk crops.
"Planting date is also a consideration and we'll plant high risk varieties later to try to avoid the crop being at a susceptible stage during early willow-carrot aphid migration peaks seen in recent seasons. We can then use systemic insecticides later in the season when species like the peach-potato aphid start to move," he adds.
For post-planting management, the loss of effective insecticides – from both regulation and aphid resistance – has meant a rethink on control programmes and one aspect both agronomists agree on is the role of pyrethroids.
Huge selection pressure has been placed on the chemical group in seed potato production, with eight applications of pyrethroid on seven-day intervals not uncommon during a growing season. As they are now largely ineffective against several of the potyvirus vectors, neither adviser will be making blanket early season recommendations for their use this season.
Stevie says that on balance they do more harm than good now. "The destruction of beneficial insects is the collateral damage of a spray that may have little effect on the target pest, especially over a typical seven-day spray interval.
"If the industry is serious about moving to IPM strategies, then we should no longer be applying pyrethroids at all. They're a comfort blanket that needs to be let go in many cases."
An exception would be where susceptible species are detected in the various aphid monitoring options available to growers, he adds.
Ralph runs his own yellow water traps and keeps a close eye on FERA's data, along with suction trap results, and these will influence his final insecticide choice decisions.
"It's obvious pyrethroids haven't been giving us much benefit for the past five years and I've barely used them for three," he adds.
With pyrethroid insecticides under threat of being revoked within the next 2-3 years, coupled with limited alternatives, the British seed industry will have to adapt and rapidly gain experience of using different virus control methods, including straw mulches and mineral oil applications, believe both agronomists.
NIAB researcher, Dr Jane Thomas, completed some AHDB-funded research at Cambridge in 2020, which pitted conventional insecticide programmes against straw mulch and oil programmes in a very high aphid and virus pressure situation.
It showed that a straw mulch and oil applications at seven-day intervals – from 30% emergence to haulm destruction – reduced virus in tubers by about 50%. Oils alone reduced viral disease by less than 50%.
As the Cambridge site was such high pressure, results should be interpreted with caution, but Jane says the experiment will be repeated in 2021 in Aberdeenshire, in conditions more typical for seed producers. Her work indicates that both straw mulches and mineral oils can bring something to the party in potyvirus control programmes, particularly early in the season.
Stevie says mineral oil will feature early in the crop's development amongst his grower base, with the only approved product, Newman Cropspray 11E, being recommended from 30% emergence at three to five-day intervals. This can then be stretched to seven days once past the rosette stage up to tuber initiation. Beyond TI it is not approved for use, he says.
"It gives some early reduction of the non-persistent virus transmission by migratory aphids at a stage when the crop is particularly vulnerable."
It should be noted that the 99% paraffinic oil product is registered as an adjuvant only and, as a result, must be used in conjunction with a plant protection product to remain compliant with label restrictions. This is something to bear in mind when writing recommendations, he highlights.
In Europe, growers have access to mineral oils – such as the Certis product, Olie-H – which are approved for virus control right through the growing season. Certis are hopeful that British growers will have access to Olie-H within the next couple of years.
Protection against PLRV transmission relies on systemic insecticides, and these should be deployed at the first sign of peach-potato aphid migration in suction traps and local water trap monitoring, according to the recommendations.
There are three approved for use in potatoes, including Insyst (acetamiprid), Teppeki (flonicamid) and Movento (spirotetramat), but Movento can't be used until post-flowering (BBCH69) in potato varieties that produce flowers. Insyst and Teppeki also have limitations – Insyst can only be applied once to ware or processing potatoes and Teppeki can't be applied in a tank mix with oil adjuvants when used in ware or processing potatoes and a minimum interval of 21 days must be observed between Teppeki applications.
This effectively leaves seed growers with two applications each of Insyst and Teppeki, which Stevie says should be applied alternately on two-week intervals from the first sign of peach-potato aphid activity.
"This will provide about 8-9 weeks protection with the four sprays. One positive this season is that peach-potato aphid migration is forecast to be delayed by the colder winter, so it should be enough to cover the risk period, which includes early haulm desiccation."
Certis arable product portfolio manager Neil Beadle says the two products have no known resistance issues in the UK and are different modes of action, so complement each other from a resistance management perspective.
When considering first sprays, he considers Insyst the ideal candidate because of its rapid knockdown effect on colonising aphids. "By the time you see aphids in the crop, the chances are they've been there for a period of time," he explains.
The label restriction for Insyst in ware and processing crops (one application) means that any seed grower using a comprehensive insecticide programme which uses two Insyst applications mustn't allow oversize tubers to enter the human food chain.
In these scenarios, Stevie says growers should look to burn crops off earlier, as soon as most tubers are a suitable marketable size for seed, avoiding oversized tubers that will return no value and incur storage costs.
"With several label restrictions allowing products to be used in seed, but not in ware or processing crops, the days of dual-purpose crops are over," he concludes.
PVY – the problem
PVY is the most damaging of the potato viruses because of the effect it has on quality and yield. Three major strains of PVY are usually recognized, PVYC (stipple streak strains), PVYN (tobacco veinal necrosis strains) and PVYO.
More extreme disease and greater losses result from infection in combination with other viruses e.g. PVX (mild mosaic). Recombination between PVYN and PVYOO has produced PVYNTN, which can cause very severe and economically damaging symptoms of necrotic ringspots on tubers (potato tuber necrotic ringspot disease).
Depending on virus strain and potato variety, symptoms vary from mild mosaic to severe foliar necrosis to plant death. Primary symptoms from the initial infection may differ from a secondary infection of the progeny plants.
PVYN can appear symptomless or as a mild mosaic. Primary symptoms of PVYO and PVYC may be severe mosaic or leaflet necrosis. Youngest leaves may be mottled or distorted and petioles lower on the plant become brittle and leaves fall off or hang by a thread. Bare stems with tufts of leaves on top may give a palm tree effect. Symptoms of secondary infection may be small crinkled, mottled and twisted leaves with mature plants being dwarf, weak and sprawling.
Primary infection of PVYNTN shows mild mosaic, chlorotic foliage, crinkled leaves and necrotic rings on the tuber surface. These might be isolated or coalesce to cover the whole tuber. Necrosis increases during storage and rings may become sunken, facilitating rotting. Secondary symptoms of PVYNTN show a distinct mosaic on leaves and severe necrosis on stems and veins leading to leaf drop.
Source: AHDB, 2021
How wildflowers offer virus control
Managing landscapes to promote natural predators is an important layer in IPM, says Eric Anderson, senior agronomist at Scottish Agronomy. By building pockets of biodiversity, growers can better support the naturally occurring predators and parasitoids of crops pests.
Eric has seen success from wildflower strips sown in tramlines in IPM trials work in seed potatoes, which is being carried out at AHDB's SPot farm at Milton of Mathers near Montrose in Scotland, in collaboration with Syngenta, Kings and The Game and Wildlife Conservation Trust.
"Flower strips enhance the complexity of a field ecosystem, making it attractive to many species of predators, parasitoids and pollinators. They provide natural enemies with shelter and food, allowing them to maintain their populations and produce more offspring, and the proximity of flower strips to the crop makes it easier for predators and parasitoids to reach pests and thus increases biological pest control."
Placement of wildflower strips needs foresight and planning, he advises, as trials have shown that natural predators are only effective within a short distance of their habitat. The ideal is to build corridors from winter habitats, such as grassland, to connect them to the wildflowers.
In the insect world, adults often eat very different food from their offspring, to avoid competition and to make the most of seasonal changes in food availability. The adults of many largely carnivorous larval species feed mostly or entirely on floral resources, explains Eric.
Floral diversity and choice are important, he says. "Many predators and parasitoids have relatively small mouthparts, which means they are unable to access pollen and nectar from some species. So simple flower types such as coriander, common vetch, buckwheat, corn chamomile, cornflower, yarrow, and sweet alyssum are good options."
Although adult hoverflies, ladybirds and other predators are mobile and can commute between crops and floral habitats, such habitats can be in short supply in agricultural landscapes. Arable landscapes are constantly changing over time, and environmental conditions play a large role in the population dynamics of both pests and their natural enemies.
"There isn't a single solution – it's about using a number of actions, each with small incremental benefit but adding up to a significant improvement when added together," says Eric. "The best approach is to use a combination of chemical and non-chemical strategies, including crop rotation, variety virus propensity data and promotion of natural enemies."
Introducing wildflowers and other IPM measures may not save on spray occasions or costs but they do what the sprays aren't achieving, he says.
"It's about being dynamic and broadening traditional horizons, introducing a series of management measures and controls that make marginal gains to ultimately secure high quality seed potatoes. By building a greater understanding of the biology and ecology, it's like bringing together the pieces of a jigsaw to create a more robust system."
Eric suggests a "whole industry" approach is needed, and both the ware/processing and seed sectors need to work together to minimise virus sources from volunteers to secure the future of the industry.
"It's all about adopting best practice, taking ownership of virus control on rented as well as your own land, which may mean including a commitment in rental agreements to manage volunteers in subsequent years."
He recommends growers map out, "at least in their head," the natural capital of the farm, working out where there is less productive land and biodiversity can be enhanced, and start to plot a route map.
"This may take a change in attitude, but not only are our crops and our environment calling out for it, but so are our governments as they set ambitious goals for greener and more sustainable practice.
"In England ELMs is imminent, and a similar incentive is likely to follow in Scotland/the devolved nations. Establishing these systems takes time, so it's really important to start evolving now. Doing nothing is not an option."
A look ahead at blight
Applying the most appropriate product at the right time is fundamental to good agronomy, and never more so than for managing blight. As new races emerge and fungicide options become more limited due to regulations or resistance concerns, so the need to target chemistry and modes of action to key growth stages becomes increasingly important, says Hutchinsons regional technical manager Cam Murray.
"Blight strains are becoming more aggressive and this changes the way we manage the disease. The days of applying inexpensive products at routine intervals have gone. Now it's a zero-tolerance approach, based on careful product selection and tighter intervals of 10, seven or five days where required," he says.
Hutchinsons has been running blight trials since 1997. The work is currently hosted at Farmacy agronomist Richard Daubney's Lincolnshire farm, where last season 30 products were compared in replicated 6-metre plots of Melody potatoes which were managed to deliberately create high blight pressure on the Grade 1 silty clay loam, east of Boston.
Last season, plots were inoculated with 13_A2 and 6_A1 strains to test the chemistry, although these were ousted by the appearance of 36_A2 as the season progressed.
"We've seen different strains at different points in the season. Location, as well as weather, has a big effect on blight pressure. Blight programmes need to operate in real-time; you can't work off a blueprint developed at the start of the season," says Richard.
While products should always be tailored to individual situations, there are some key timings where specific chemistry may work best. Mancozeb has been a good option early in the programme and as the last of the multisites in potatoes, it offers resistance management benefits, says Cam. Mancozeb's delayed withdrawal means products may be available, although supplies are likely to be limited.
Fluopicolide plus propamocarb is increasingly being used for tuber blight control earlier in the season because of fluopicolide's zoospore activity, though if taking this approach Richard cautions to retain some allocation for the final sprays as it complements cyazofamid.
Once into rapid canopy growth of early summer, more robust, systemic chemistry is preferable and oxathiapiprolin (in Zorvec Ecinade) has become a clear leader, notes Cam. He stresses that as it's a single-site active, it must be used with other actives to mitigate resistance risk.
Rapid canopy sprays often coincide with the first irrigation pass, so the flexibility to use oxathiapiprolin twice at 10-day intervals can help when managing irrigation regimes, adds Richard.
"If it's very dry and you're not irrigating, then mandipropamid-based products are still very effective at rapid canopy when blight risk is low, but irrigation, combined with warm temperatures and large canopies requires strong products at the main timing," says Cam.
Mid-season options are more limited without co-formulations containing mancozeb, so look to products based on mandipropamid, cyazofamid or ametoctradin once canopy growth stabilises, depending on disease risk, he suggests.
Including cymoxanil in mixes, especially where single-active products are being used, could offer useful additional kick-back against new blight strains that generally have shorter life cycles and can develop at lower humidity, adds Richard.
Towards the end of the season, fluopicolide plus propamocarb is effective with the first desiccation spray, protecting crops through to the second desiccant and harvest where late blight risk is relatively low, says Cam. But in warmer southern counties, crops may require an additional spray of a cyazofamid-based product, especially where burn-down takes longer without diquat.
"We saw in our trials last year how blight came into untreated plots both early and late in the season, so it's vital not to take the foot off the gas," says Richard.
He also highlights the value of maximising crop nutrition throughout the season to allow faster bulking and earlier burn-off, thereby reducing the time crops may be exposed to blight later in the year.
Much has been made of the loss of actives in recent years, but Richard concludes by saying growers can take encouragement from the strong pipeline of new fungicides coming. "A lot of pipeline products performed amazingly well in our trials last year and many were equally as good as the current market-leader."
Fuente: https://www.cpm-magazine.co.uk/2021/04/15/potatoes-integrated-approach-for-pvy/#