Bangladesh: Farmers pass busy days cultivating early-harvest potatoes
F armers in Nilphamari district are cultivating a fast-growing variety of potato in order to maximise their profits before the year ends.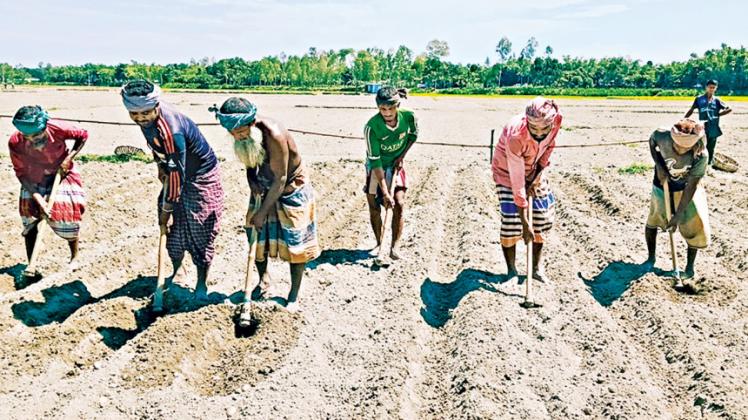 Farmers across Kishoreganj upazila of Nilphamari district are toiling away to cultivate a fast-growing variety of potato that will be ready for harves
This variety can be harvested just 55 to 60 days after sowing, meaning that the current crop will be ready for sale ahead of mid-November, when most farmers across the country begin cultivating normal types of potato that provide yields between February and March the following year.
For all latest news, follow The Daily Star's Google News channel.
Potato cultivation usually takes place from November to March as farmers have to first clear away their aman paddy crops at the start of this period.
The Department of Agricultural Extension (DAE) office in Nilphamari recently informed that this year's target is to cultivate potato on 22,500 hectares of land in the district, where the early-harvest variety will account for 5,000 hectares.
So far, 500 hectares have already been brought under cultivation with fast-growing potatoes such as sagita, jamplus, and granula.
Habibur Rahman, the upazila agriculture officer of Kishoreganj, said that the early-harvest potatoes give city dwellers a rare opportunity to taste new varieties ahead of the regular season. However, this luxury does not come cheap as these potatoes are sold for as much as Tk 100 per kilogramme when winter sets in.
Only high up or sandy alluvial soils that have low levels of water retention make for favourable cultivating conditions for the fast-growing tuber crop, which cannot be found in any other district, he added.
According to the local DAE office, the soil found in a number of villages across Kishoreganj upazila is most suitable for the task.
So, people in these villages have flourished thanks to years of early potato farming as traders from Dhaka, Chattogram and other major cities visit their homes every year to directly purchase the produce.
During a recent visit to the region, this correspondent found that farmers are either busy planting seeds or preparing the land with natural and chemical fertilisers.
Various farmers said that scant rainfall this year paved the way for early potato cultivation by the end of September while they had to wait until mid-October last year due to high rainfall.
But thanks to the low soil moisture levels this year, farmers like Anwarul of Uttar Durakuti village in Kishoreganj have increased their cultivation areas.
"I sowed early potatoes on 30 bighas of land this year while it was 22 bighas last year," he said.
It costs about Tk 25,000 to cultivate potatoes on one bigha of land, which could yield up to about 2,500 kilogrammes of the crop.
"You can sell this amount of potato for an average of Tk 50 per kilogramme at wholesale markets," said Obaidur Rahman, a farmer based in Natib Chapra village of the district's Sadar upazila.
Abu Bakkar Siddiquee, deputy director of the local DAE office, said early-harvest potatoes have brought fortune to farmers in Nilphamari.
"Besides, this indicates that farmers are becoming more open to non-traditional cropping patterns, for which we are working," he added.
Fuente: https://www.thedailystar.net/business/economy/news/farmers-pass-busy-days-cultivating-early-harvest-potatoes-2187236