EEUU: Wildfire Smoke's Influence on potato crops under study
A two-year study by Boise State University and University of Idaho probes how wildfire smoke affects potato crops and seeks to identify smoke-resilient potato varieties.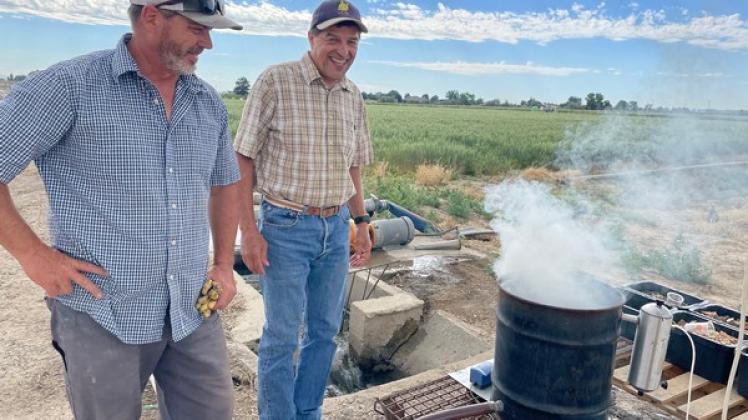 Farmers know potato crops grown during seasons of heavy, extended wildfire smoke generally have smaller yields and worse quality. Past studies have identified some smoke components, such as ozone, that could impair potato growth, but limited research has largely left the underlying chemical relationships unexplained. This work tests industry's smoke-harm theory in controlled environments, allowing researchers to investigate the effects individual smoke compounds impart on Idaho's flagship crop.
"Observations from industry started all of this. When we have had bad, smoky years, yields are down and processing quality is down. Our hypothesis is smoke exposure causes that," said Mike Thornton, a professor in U of I's Department of Plant Sciences.
Thornton and Boise State Chemistry Department Chair Owen McDougal are analyzing smoke's chemical effects on potatoes. The study also evaluates if certain potato varieties are more immune to smoke's damage. Researchers will present preliminary findings this winter at potato industry meetings. Full results are expected for release after the 2023 harvest.
The existing understanding of smoke's influence on potatoes points to a mixed bag. Several smoke components are suspected to affect potato crops, such as brown and black carbon, volatile organic compounds and even disease spores. Smoke reduces available light and raises nighttime humidity — worsening environmental conditions for potato growth. But other parts of smoke, such as carbon dioxide, may be advantageous for plants.
"This is the first time, at least in our review of academic research, that anybody has tried to do this on a large scale," Thornton said.
The new research involves subjecting three potato varieties — Clearwater, Alturas and Russet Burbank — to smoke emitted from pine needles, sage brush and wood. Burnt in a commercial smoker attached to a mixing drum, the blend attempts to emulate wildfire smoke. The smoke is piped to potato plots, where plastic covers trap smoke in with plants, while other control potato plants grow in a smoke-free environment to let researchers compare outcomes. Daily potato smoke treatment at the U of I Parma Research and Extension Center began July 11 and ended Aug. 18.
The two-year project is funded by $125,000 from the federal Specialty Crop Block Grant Program, authorized by the Idaho State Department of Agriculture.
For more information:
Owen McDougal
Boise State University
Tel.: +1 208-426-3964
owenmcdougal@boisestate.edu
Mike Sharp
Boise State University
Tel.: +1 208-426-1597
mikesharp@boisestate.edu
Fuente: https://www.freshplaza.com/article/9459082/wildfire-smoke-s-influence-on-potato-crops-under-study/