India: Aeroponic Farming: Growing Potatoes in Thin Air Can Raise Your Profits to 20 Percent
Potato farming takes place on a vast scale in India, though most localities still cultivate it the traditional way. Additionally, the crop often gets destroyed by unseasoned rains or drought.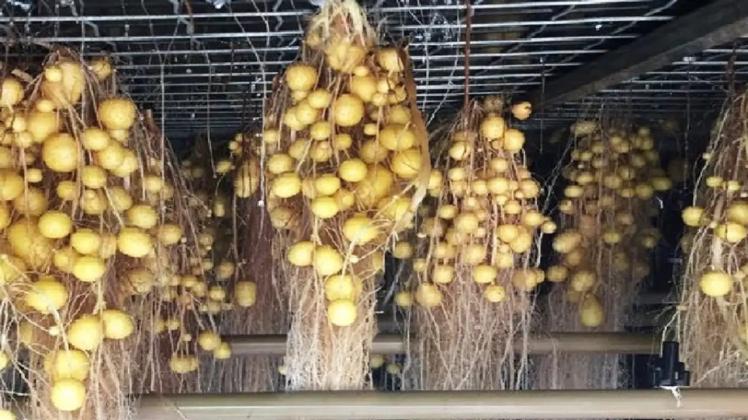 To help farmers out of all of these predicaments, experts have now been focusing on a new method of potato production.
Farmers will now be able to grow potatoes in thin air, plus this will be less time-consuming and will manifold their profits by up to 20 percent.
New changes are taking place in the agricultural world every day with modern techniques being used for better production. Owing to these techniques, farming is no longer dependent on soil, but excellent crop production is now possible in both, air and water. A better illustration of this is hydroponic farming, under which fruits, flowers, and vegetables are cultivated in water without soil.
In India, the Karnal Institute of Potato Technology and the Department of Horticulture have been promoting this technique on large scale. In this method, potato plants are prepared in the nursery and transplanted in an aeroponic unit. It is created from the soil's top layer, where potatoes are grown with the aid of water and nutrients.
What is Aeroponic Farming?
The nursery prepares a more sophisticated variety of potato plants before sending them to the gardening section. Following this, the plant's roots are treated by being submerged in Bavstein to eliminate the risk of fungus. After that, a raised bed is constructed for the planting of potato plants. By transplanting the plants in the aeroponic unit when they are 10 to 15 days old, more potatoes are produced in less time.
RELATED LINKS
Hydroponics Vs Aquaponics Vs Aeroponics: Which is Profitable?
Hydroponics Vs Aquaponics Vs Aeroponics: Which is Profitable?
The traditional agriculture has come under the scrutiny due to its adverse effects on the environment - depletion of natural…
This technique is quite popular in various countries, but the credit for aeroponic farming in India goes to Potato Technology Centre, Shamgarh. This institute has tied up with International Potato Center. This institute has approved aeroponic farming in India.
How the method contributes to making a profit?
Till now farmers have been producing seeds in the greenhouse for potato cultivation, which used to consume a lot of time. At the same time, the production also does not get anything special. Only 5 potatoes can be obtained by cultivating with ordinary seeds. Many farmers take the production of potato seeds in the cockpit, which doubles the production, but for aeroponic farming, bumper production of potatoes is being achieved without much effort.
Farmers have been growing potato seeds up to this point in greenhouses, which takes an ample amount of time and effort. Additionally, production remains low in case of massive rains, drought, or other climatic issues.
While aeroponic farming produces enormous crops of potatoes with little work. Many farmers choose to grow potato seeds in the cockpit, which doubles productivity.
By using this method, a single plant can produce 20 to 40 potatoes. And if these tiny potatoes are sown as seeds in the ground, the yield will rise by three to four times. However, various safety precautions must be performed while producing a crop with the aeroponic technique.
Fuente: https://krishijagran.com/agripedia/aeroponic-farming-growing-potatoes-in-thin-air-can-raise-your-profits-to-20-percent/