Escocia: Blight 'kicks off big time'
A WET and warm start to August has heightened the potato blight risk in Scotland.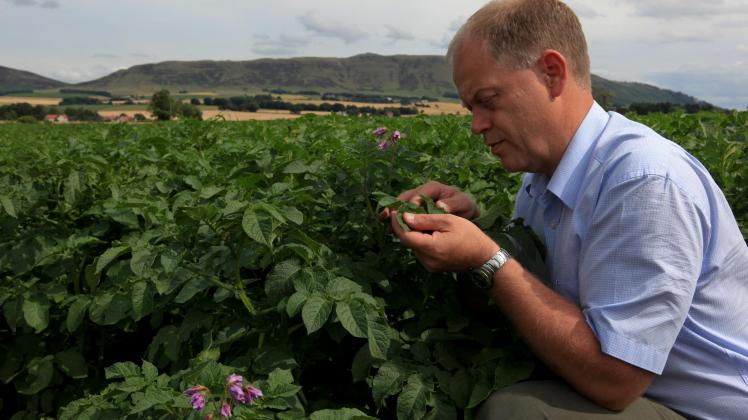 During a week of almost back-to-back Hutton periods, advisory group, Scottish Agronomy, found a wave of active blight foci across Scottish crops.
Conditions were blight conducive throughout Scotland's potato growing areas for the last week of July, with spores present and active. According to Scottish Agronomy's Eric Anderson, this marks the start of a heightened period of risk.
"That week we submitted two samples from volunteers and four from crops to the AHDB 'Fight Against Blight' service. So far this season, blight's been a non-event but it has now kicked off big time. To keep on top of it, growers need to step up frequency of inspection and be ready to adapt programmes to regain control," he said.
Where active foliar blight is found in a crop, Scottish Agronomy recommended products or mixtures with both anti-sporulant and tuber blight activity. To bring blight under control, intervals also need to be narrowed to three or four days until actively sporulating lesions 'dry up'.
Most product labels do not allow for an interval of less than seven days, so this has to be achieved by alternating between chemistry. Eric added: "Our preferred fungicide is Infinito (fluopicolide + propamocarb) at 1.6 l/ha as it combines tuber blight, anti-sporulant and curative activity. It should be alternated with other fungicides with anti-sporulant activity.
"Options will depend on how many applications of QiI fungicides – amisulbrom and cyazofamid – have already been used. For resistance management, these should not form more than 50% of the programme."
With some crops now just a fortnight away from desiccation, Mr Anderson also emphasised the importance of maintaining tuber protection until haulm is completely dead. "Do not use fluazinam because of resistance in 37_A2. The only two fungicides containing active substances considered to have good tuber blight activity are Infinito and Ranman Top (cyazofamid).
"Ideally, growers should alternate between Infinito and Ranman Top + Proxanil/Axidor (propamocarb + cymoxanil) for the last two or three sprays. If by this stage the crop is blighted, remember that the role of fungicide applications is not just to protect tubers, it is also to reduce the amount of viable inoculum in the crop.
"Consolidating cracked ridges with a ridge roller and ensuring complete haulm desiccation to prevent re growth can reduce the risk of tuber blight," he pointed out.
Fuente: https://www.thescottishfarmer.co.uk/arable/17824331.blight-kicks-off-big-time/