EEUU: Despite freezing temperatures, Idaho potato farmers harvest majority of crops
Despite herculean efforts to finish harvesting spuds last week, there remained thousands of acres of potatoes left to be gathered as of Oct. 10.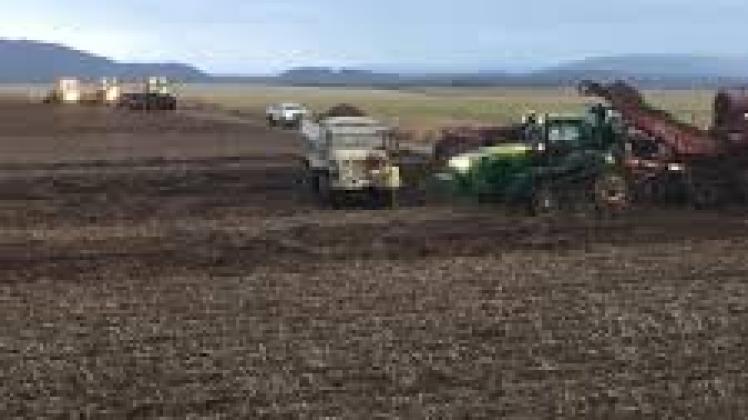 Temperatures dipped into the 20s the night of Oct. 9 preventing Upper Valley farmers from culling their crops.
Terry Wilcox reported his Mud Lake farm crews worked until midnight Oct. 9 salvaging potatoes.
"We lit a few bails of straw on fire in a few places. We had a skiff of snow which is pretty good insulation. We didn't get much damage last night, but it will happen tonight (Oct. 10), I'm afraid," he said. "Mother Nature has not been good to us this year."
A late planting season coupled with cold weather, hurt potato farmers chances of successfully harvesting this year, said Wilcox. He recalled similar weather in 1985 when cold weather prevented the harvest.
"A lot of farmers lost their farms within the next year or two. It hasn't been that bad since then," he said.
Joseph Sagers, University of Idaho Extension educator for Jefferson and Clark counties, said multiple farmers were affected by the freeze last week. Most, he said, spent the night of Oct. 9 in the fields.
"Most guys were working pretty hard through the night ... I think (the damage) was mitigated to some extent," Sagers said.
Sagers said some potatoes were missed, however. According to Jon Hogge, Area Cereals Educator for the University of Idaho, it was anyone's guess what condition remaining spuds were in as of Oct. 10.
"Maybe it will be by the first of the week before we really understand what's transpiring, and how much loss there is," Hogge said.
Frozen potatoes aren't worth much, Wilcox said.
"You can feed them to cattle or throw them away," he said.
In Fremont County, Lance Ellis said that while Oct. 9 night temperatures proved frosty, potato farmers harvested a majority of their crops.
"I think a lot of them got a good chunk of it dug. We won't know for a few days if there was any damage done to the potatoes," he said.
Green Timber farmer Tom Howell reported that he planted 350 acres of spuds and was on the verge of losing a substantial amount of those acres before fellow farmers Brett and Steve Reynolds, Mike and Matt Sturm, and Rex, Jared and Alan Baum arrived. Thanks to their help, all but 15 acres of Howell's potato crop was harvested.
"It is very humbling to be on the receiving end of charity," he said. "For years we have helped others never expecting the tables to be turned. We will offer to pay to cover the cost of machinery and the time and labor of some of the employees, but most of the time they do it all out of the goodness of their heart."
Green Timber potato farming proves difficult, Howell said.
"This country does not give you a very big window (of opportunity) to get crops planted or harvested. You look now – there will still be two weeks of Indian summer yet to come, but it's always after the damage is done," he said.
Farmers can take out insurance on their crops but such barely pays the cost of planting the crop, said Wilcox who insures his crops at 70 percent.
"If you've got a whole field, and you didn't get it harvested for some reason, you get 70 percent of what you would have got on 380 sacks at the price $7.52 a sack," he said.
"You're going to recover a little bit probably, but it won't be enough as it cost to grow the crop. It costs you $2,500 to grow an acre of potatoes."
Just like Wilcox, fellow Rexburg potato farmers, Tom and Charlotte Erikson hadn't seen the type of cold weather experienced recently in the nearly two decades they've been farming.
"We've never gotten the hard freeze," said Charlotte Erikson.
The Eriksons own a 900-acre potato farm with their cousins Stan and Jaimie Erikson. Of that acreage, the family harvested around 670 before 30 degree weather conditions forced them to stop around 4 p.m.
Charlotte Erikson said she didn't believe spuds harvested Oct. 9 suffered any damage, but as for the unharvested potatoes, it was anyone's guess. Despite the situation, Erikson and her husband have remained calm.
"Worrying just makes you suffer twice. If it's gone, we're going to have to figure out how to handle it. (Tom's) feeling pretty confident that we will still be able to salvage a lot of (the crop) if it warms up the way we think it will," she said.
Erikson noted that Church of Jesus Christ of Latter-day Saints leaders had urged members to pray and fast for farmers this week.
"I really felt those prayers. For us to live in a community that really cares about us and each other — that is a huge benefit," she said.
Wilcox also expressed appreciation for the heavenly requests and said that while harvesting he thought of the hard times others have experienced and endured.
"It's tough while you're in it, but it's not the end of the world. It's all minimalized – it's tough at the moment," he said.
Fuente: www.postregister.com