India: High demand drives potato farmers harvest early
Attracted by more than double the price of matured crop, potato farmers in the district are harvesting immature potato 30 to 40 days before its harvest time.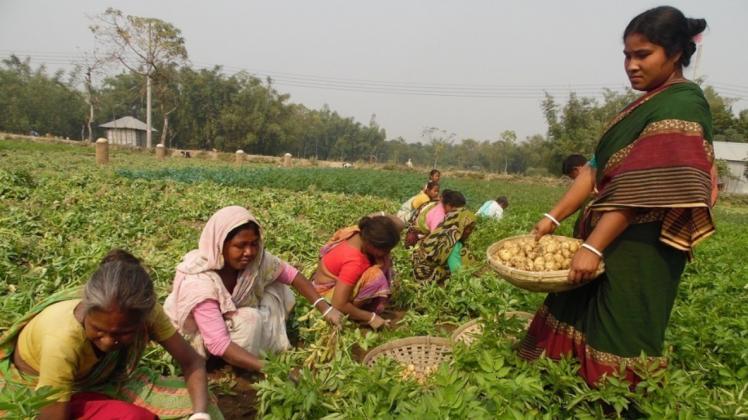 Belal Hossain, president of Nilphamari kitchen market traders' association, said the trend might have a negative impact on the final yield of mature potato that is preserved in cold storages for consumption throughout the year.   
The Department of Agricultural Extension (DAE) however ruled out the apprehension that the early harvest will cause a reduction in the year-round supply of the produce in the country.
DAE Deputy Director in Nilphamari Nikhil Chandra Biswas said, "Harvest of immature potato will not affect the targeted production as farmers can cultivate the same crop two times on the same land."
In the aftermath of Cyclone Bulbul, nationwide devastation of croplands left vegetable prices soaring at kitchen markets. The farmers who lost their crops to the cyclone are now trying to make up for the loss by selling their produce when the prices are high.          
According to the DAE in Nilphamari, out of their target of potato cultivation on 21 thousand hectares of land between October and December, the peak cultivation period, the crop has so far been cultivated on a total of 18 thousand hectares of land. 
The yield of immature potato, so far harvested from around 2,100 hectares, amounts to only 15 tonnes per hectare, said a DAE official.
If harvested mature, after at least 90 days, between January and March, the per hectare yield of potato would be 24 tonnes, the official added.
While visiting a potato field in Putimari village of Kishoreganj upazila, this correspondent saw potato traders buying and sending out immature potato straight from the field to Dhaka in 50-kg sacks.
Farmer Motilal Roy said after crops on a vast tract of land were damaged by the cyclone recently, shortage in supply of vegetables resulted in the rise of their prices and they were harvesting potato early to take that advantage.   
"I sowed the potato on October 25 and after 50 days, I reaped a harvest of 30 tonnes that I sold for Tk 7.8 lakh at Tk 26 per kg."
"If I harvested after 90 days, in the last week of January, I would probably get at best 48 tonnes, from which I most likely would earn only Tk 4.8 lakh, at Tk 10 for each kg. That was the price I got last year," Motilal explained.  
Just 15 days back, the price was even higher -- Tk 35 a kg, said Khirod Barman, a farmer in Tengonmari village of Jaldhaka upazila.
Fuente: thedailystar.net