Bangladesh: Lab facilities, seed varieties stressed for increased potato export
The Bangladesh Potato Exporters Association (BPEA) in association with the Agro Products Business Promotion Council of Commerce Ministry organized the workshop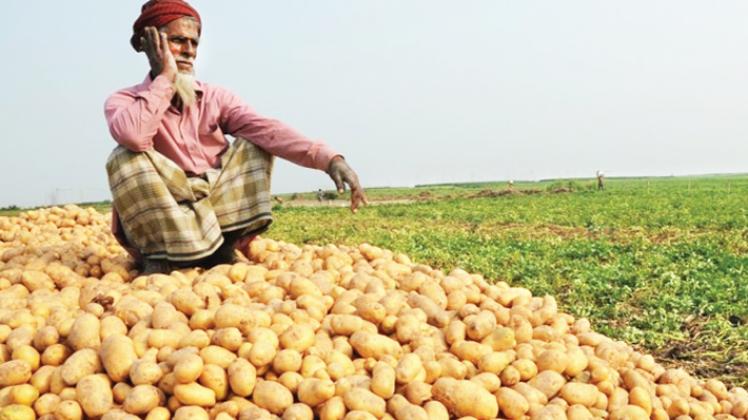 Bangladesh, despite having surplus production, is failing to grab the opportunity of potato export for lack of sufficient laboratory facilities and shortage of potato varieties, experts have said.         
They also put emphasis on contract farming to help the marginal potato farmers to improve quality of their produces by providing them with technical assistance.  
They were speaking in a workshop titled "Production of Export Quality Potatoes Through Contract Farming' at Bangladesh Agricultural Development Corporation (BADC) auditorium in the capital on Saturday.
The Bangladesh Potato Exporters Association (BPEA) in association with the Agro Products Business  Promotion Council of Commerce Ministry organized the workshop to discuss ways to improve quality of potatoes to increase exports of potatoes, which saw downtrend in the last few years.  
Rezaul Karim, joint director and chief coordinator, research cell, BADC, said in his presentation on exportable potato production, collection and processing technology that the production of potatoes in the country was 100 lakh tons from 5 lakh hector against the total local demand for 70-80 lakh tons.
The rest 20-30 lakh tons, he mentioned, remained extra, causing price slump and losses to farmers.
If these extra potatoes could be exported, farmers could get the profit, he observed.
"Cultivation through contract farming is a recognized method. Producing and marketing exportable quality potatoes depend on production and processing techniques. So it is important to select varieties and seeds of potatoes," he said in the program.
He recommended providing a package technology for early tuberization and early and quick bulking of potatoes.
Meanwhile, Shamsul Alam, deputy director (export) plant quarantine wing, Department of Agricultural Extension (DAE), said: "Exports were the highest in 2013-14, but it has been on the decline."
"In the period, 89.50 lakh tons of potatoes were produced and 1.02 lakh tons were exported. But in 2018-19 fiscal year 105.75 lakh tons were produced but only 0.35 lakh tons were exported. Though the production increased, the export fell," he added.
He mentioned that Indonesia and Russia, the two largest importers, imposed some restrictions on importing potatoes from Bangladesh
Russia imposed a ban on export of potatoes from Bangladesh in 2015 for not meeting its phytosanitary import requirements.
On the other hand, Indonesia, the largest potato market for Bangladesh, made it obligatory to take approval of government's food safety system and food safety testing lab in the case of exporting fresh food of plant origin, including potato.
Availing the situation, India, Pakistan and China grabbed the market following rules, Shamsul Alam mentioned in his presentation.
Exporters attending the workshop complained that there were not enough accredited lab in the country so before exporting, they were failing to test the quality of potato.
Lack of skilled manpower in this sector also mentioned in the workshop.
Sayedul Islam, chairman of BADC, said laboratory was most important for production of quality potato.
"But we have lack of laboratory. Besides, we have to ensure the enough nutrition of potato. In this regard contract farming will be the best way to increase potato exporting," he said.
"The government is supporting our agricultural sector, so we hope exporting potato will play an improved role in future," he added.
Fuente: www.dhakatribune.com/