EEUU: Russet potatoes aren't just from Idaho, they're from Colorado too!
In Colorado there are two main potato growing areas: northern Colorado, and the San Luis Valley which is located more central in the state.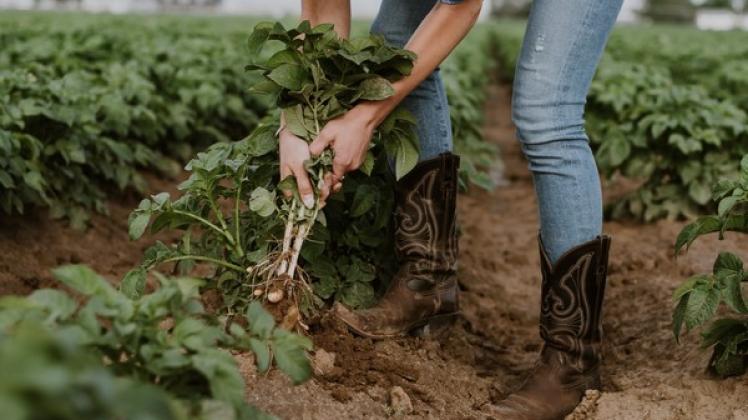 The northern Colorado area used to have many more growers than it does today. Strohauer farms is one of the three potato farms left in the area. Amber Strohauer shares: "When I was 10, there was 64 potato growers in Greely. Now, we're the only ones left in this county."
The reason for this shift is not simple, she explains. "There's been such an explosion for oil and gas in the area, and on top of that it was difficult to find enough manpower and good water access. This area is also prone to hailstorms, which can be very damaging for the crops. The San Luis Valley, on the other hand, is much more protected from erratic weather, and because there's many more grower there, they are able to have a much larger support system surrounding them," she says.
Good season but smaller sizing
Despite the decrease in growers in northern Colorado and the challenges of growing potatoes in this region, Strohauer Farms had a good season this past year. Strohauer shares: "We had a good crop this past season. We did have an early freeze, and then another freeze right around harvest time, but we already had all of our crop in storage by that time, so we weren't affected much."
The freeze helped create good prices on the market, but it also had an effect on the sizes of the russet potatoes in particular. Strohauer says: "Both the conventional and organic russets are small in size this season. This also makes the overall supplies a bit tighter, but we expect the supplies to last through to the next harvest. There might be a bit of an increase in pricing, and towards the end of the season we will see that the sizes will be smaller everywhere, but overall the quality and yield were good."
Demand for fingerlings increases
While potatoes are a staple in many diets and the demand remains steady, Strohauer shares that they have noticed an increase in the fingerling category. She explains: "The fingerling potatoes are especially popular in meal delivery service kits, because they cook faster and so the recipes included in these kits will be quicker to prepare." Since these types of services are becoming more popular in general, the fingerling demand has risen along with it.
Another trend Strohauer noticed this year was the increase in demand around the holidays. "There is always a spike in demand around the holidays, and during the colder months in general but this year that spike was even bigger than usual," she says.
Educating audiences on the Colorado russet
Within the potato industry, Idaho has done a great job marketing their russet potatoes. "It's gotten to a point where we even have chefs from Colorado call our Colorado russets 'Idaho russets.' Many consumers associate russet potatoes with Idaho and aren't aware that these potatoes are grown in Colorado too. That is why we are working together with the Colorado Fruit and Vegetable Growers Association to turn up the marketing for the russet potatoes from Colorado."
In order to bring more awareness to customers about the Colorado russets, Strohauer and the association are focusing on educating the consumers and partnering with chefs to tell audiences that the russets from Colorado are the same as the russets from Idaho.
Many potato varieties
While there's a focus on increasing consumer awareness of the Colorado russets, Strohauer Farms also produces many other potato varieties. "Colorado produces a lot of produce in general, and from the potato perspective we are in the top four states, right behind Idaho, in terms of production. We also export a lot of our potatoes to Mexico and with the new USMCA trade agreement we are expecting to see this increase even more in the future," Strohauer says.
She continues: "We focus on offering variety for our potatoes. We have fingerling potatoes, and within the fingerling mix we'll have a few different kinds of potatoes, such as purple, yellow, and red. Then we also do red potatoes, purple potatoes, and Yukon potatoes. Potatoes, especially fingerling potatoes, grow well in sandy soil which is what we have here in Colorado," she concludes.
For more information:
Amber Strohauer
Strohauer Farms
Email: amber@strohauerfarms.com  
Fuente: https://www.freshplaza.com/article/9195314/russet-potatoes-aren-t-just-from-idaho-they-re-from-colorado-too/