Japón: Japan won't accept fresh Idaho potatoes, so U.S. lawmakers are pushing for change.
Idaho potatoes make it far into Asian markets, but Japan has yet to open its doors to the Gem State's most famous export.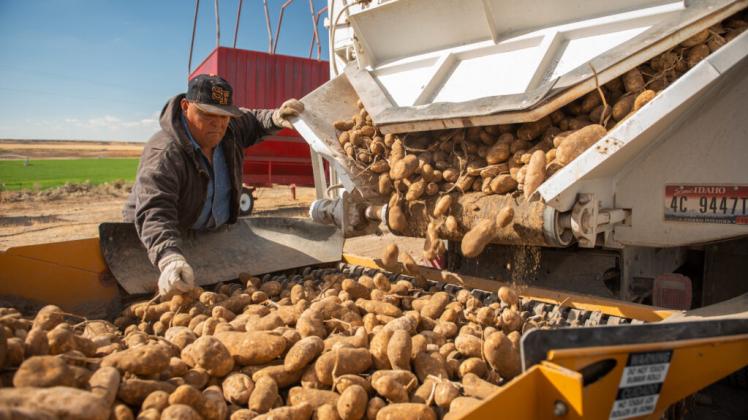 If there's one thing that can get bipartisan support in the U.S. Congress, it's potatoes.
On May 11, Idaho's entire congressional delegation — Sens. Jim Risch and Mike Crapo and Congressmen Mike Simpson and Russ Fulcher — sent a letter along with 31 other U.S. House and Senate members to the U.S. Department of Agriculture urging them to push Japanese officials to buy fresh potatoes.
Japan is a top export market for frozen U.S. potatoes, but a ban prevents U.S. potato growers from selling fresh potatoes to Japan despite decades of negotiations. 
In 2022, potato exports from the U.S. reached a record $2.1 billion in sales. That number would include an additional $150 million if Japan were to open its market to fresh U.S. potatoes, according to the National Potato Council. 
The U.S. already exports fresh potatoes to the Indo-Pacific including South Korea, Taiwan, Hong Kong, Singapore, Indonesia, the Philippines, Malaysia and Thailand.
According to the Idaho Potato Commission, about one in five potatoes grown in Idaho is exported, and top destinations for fresh Idaho potatoes include Canada, Mexico, Malaysia and Singapore. 
In the letter to the USDA, lawmakers said Japan has no valid justification for the Japanese market to remain closed to fresh potatoes.
Why are fresh U.S. potatoes banned in Japan?
Sam Eaton, the vice president of legal affairs at the Idaho Potato Commission, told the Idaho Capital Sun that the fresh potato trade ban is a "politically sensitive issue." 
Eaton said the Japanese government is protecting its local farmers and ensuring that fresh potatoes coming from the U.S. are free of any pests or diseases.
"Japan has agreed for a number of years to conduct a 'pest risk assessment' to determine what their concerns are, but we believe that this has largely been used as a delay tactic to protect their primary concern," he said in an email. 
Japan is not the first country that has had a ban on fresh potatoes. 
After a 25-year trade dispute, Mexico lifted its ban on fresh U.S. potatoes in 2022. The Mexican market previously did not accept fresh potatoes because of regulatory and legal obstructions from within the country, Eaton said. 
"Idaho potatoes were the first to enter Mexico under the new agreement," he said. "Much like the projections for Japan, the increased access in Mexico could have a market potential of $250 million in just a few years.
Eaton said access to the Japanese market would result in a strong demand for Idaho potatoes and benefit the state's farmers. 
USDA working with Japan to complete risk assessment
Trade director for the USDA's Animal and Plant Inspection Service Lisa Kohl told the Idaho Capital Sun in an email that the country's fresh potatoes have never been allowed into Japan. 
Japan opened its markets for U.S. potatoes in 2006, but those potatoes can only be used for chips. In 2018, the USDA made a formal request for Japan to open its market to fresh potatoes, she said. 
What can be done to lift the fresh potato ban? Kohl said the USDA is working to provide the scientific and technical information Japan needs to evaluate the country's market access request. 
"If American producers want to export to a specific country that does not allow U.S. potatoes, USDA would make an official market access request to that country and provide any scientific information needed for that country's regulatory process," she said. 
Kohl said Japan is also working on a risk assessment to determine if there are any pathogens or insects that could be unintentionally introduced into Japan from U.S. potatoes. After the assessment is complete, the USDA will work with Japan to develop measures to ensure fresh potatoes exported are free from pests.
Fuente: https://idahocapitalsun.com/2023/05/30/japan-wont-accept-fresh-idaho-potatoes-so-u-s-lawmakers-are-pushing-for-change/