Francia: Potato exports are too calm
European physical markets Belgium, Fiwap/PCA market message: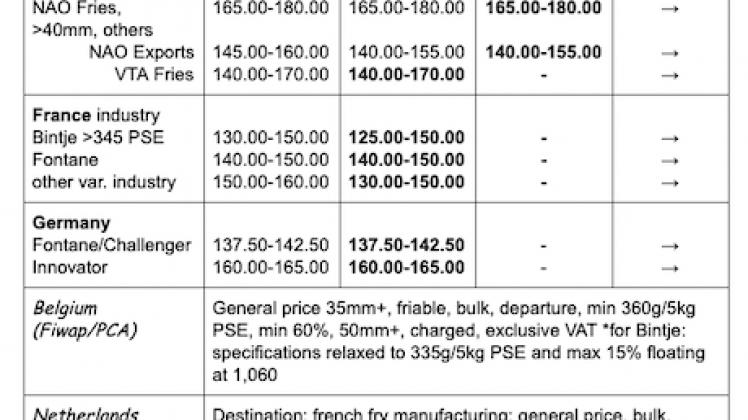 Industrial potatoes:    
Little activity on the industrial markets, with prices qualified as calm to sustained. The demand is still waiting as the supply is sufficient. Very little export activity: prices are "stuck" for several Eastern countries, and we also observe a lack of return shipments.
Price for all comers, 35 mm+, min 60% 50 mm+, min 360g/5kg PSE, bulk, friable, departure, excl.VAT, direct delivery:
Bintje: 12.50-16.00 €/q depending on wholesaler, quality and destination. Firm market, due to top-range transactions from peelers/industrial fresh fries.
 Fontane: around 14.00 €/q, stable;
Challenger: around 14.00 €/q, calm;
Innovator: 15.00–16.00 €/q, stable.
Fresh market:
Soft flesh varieties (Challenger, Alegria, Artemis…): 17.00 to 22.00 €/q
Firm flesh varieties:
Nicola, Franceline type: 20.00 to 25.00 €/q
Charlotte, Annabelle, Jazzy type…: 25.00 to 30.00 €/q.
Bintje plant: lower prices, almost no trade. Dutch plant, class A, returned March 2020, by 10 tons, in big-bags excl.VAT:
Caliber 28-35 mm: 54.00-57.00 €/q
Caliber 35–45 mm: 33.00-35.00 €/q
Forward market:
EEX in Leipzig (€/q) Bintje, Agria and related var. for conversion, 40 mm+, min 60% 50 mm+:
Netherlands
It's "business as usual" for the industry, with no desire to buy on the free market and no need to complete the contracted volumes despite the full-speed activity. Almost all quotations are unchanged, while the real transactions (not many) show 14.00 to 15.50 €/q for basic varieties, up to 18 €/q for Agria, early May delivery. Little activity in export: overseas destinations buy very little, while Eastern countries wait.
Quotation PotatoNL: also available on www.potatonl.com 
France
Industrial production, bulk, departure, excl.VAT, Nord Seine, €/qt, min–max (moy)(RNM):
Firm prices, calmer markets, stabilized quotations. Bintje prices are slightly up, at 14.00 €/q on average. The industry is not buying much. Export is very (too) calm, because of the mild temperatures and lack of return freight. Prices are globally sustained, but more debated. There are some contacts, but no concrete transactions. Eastern countries mainly look for a price. The top-quality reaches and even exceeds 28.00 €/q, but prices can drop quickly for the lower quality, around 15 to 20 €/q, unwashed.
Germany
The regular increase of the past weeks stabilized last week. For the first time since the beginning of January, prices on the fresh market remained unchanged. Offer is a little more present. The demand for potatoes stored in crates/fridge remains sustained but prices are discussed more.
Great Britain
Grubbing resumed last week in Northern England. These lots are sold directly, which is enough to cover the needs of the factories, in addition to the contracts. Maris Piper is negotiated around 18.50 €/q, and the other varieties between 18.00 and 21.00 €/q.
For more information:
FIWAP
Fuente: https://www.freshplaza.com/article/9189386/france-potato-exports-are-too-calm/